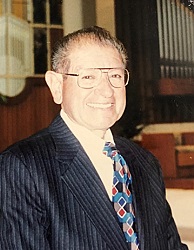 John DeMatha Marquez, 85, of Statesville, N.C., passed away on August 8, 2020, at Wake Forrest Baptist Medical Center in Winston-Salem, N.C. He was born to Marcos and Margarita Marquez on February 8, 1935, on Pala Indian Reservation in San Diego County, Calif. In addition to his parents he was predeceased by brothers, Joe, George, Frank, Ralph and Gilbert Marquez; and sisters, Margarita Marquez, Angelina Smith, Frances Marquez and Paulita Mergens.
John is survived by his wife of 43 years, Joyce Marquez of Statesville, as well as five children, John Marquez (Lisa), Terry Marquez (Maria), Paul Marquez (Maria), and Mike Marquez (Heather), all of San Diego, Calif., and Carissa Bennett (Justin) of Statesville. He is also survived by 14 grandchildren, Johnathan, Alex, Christopher, Arianna, Alex, Terry John (TJ), Brian and Trevor Marquez, and Cailan, Aidan and Riley Bennett; and five great-grandchildren; Shane, Alexandria, Arilynn, Aubree and Ivan, all of San Diego, Calif.
John lived a full, loving life. He graduated from Fallbrook High School and Palomar College in San Marcos, Calif. He Worked for Safeway/Vons from 1952-1999. He was a religious education teacher from 1960-2014. When he wasn't at church or work, he enjoyed deep sea fishing, golfing and skiing. He also enjoyed farming and gardening. He saw the world as a glass half-full and never a glass half-empty.
He enjoyed the company of his family and friends. He was always up for a party. He loved having people over and it was always a great time.
John had a calling to help the less fortunate. He would bring home people who were down on their luck, clean them up, buy them clothes, sober them up if needed and help them on their way. He will be remembered for his ability to see the best in people.
He enjoyed going to Mexico to help out with the orphaned children. He would take toys, clothing, food and blankets. One boy was so special to him that he took him to the dentist and doctor to get him healthy. John helped him enroll in school. He went on to complete his education and secure a meaningful career.
Above all else, John was a devout Catholic whose life set an example not only for his family but to everyone around him. He loved his family and he loved his church. He went to church whenever he could. He led his life by example.
John always had time for you. He would make time to listen. If you asked for guidance, he was there to help but he was never judgmental or critical.
He was a mentor wherever he went, church, work, or home.
John will be remembered and missed by all those who knew him and all the lives he touched.
Funeral Mass for John will be held at St. Philip Apostle Church in Statesville on Friday August 14, 2020, at 11 a.m. with Father Thomas Kessler officiating. Visitation will be Tuesday, August 11,2020, from 3 to 7 p.m.
In lieu of flowers the family requests memorials be sent in Johns memory to "Forward through Christ" building fund at St. Philips.
Bunch-Johnson Funeral Home is serving the family.