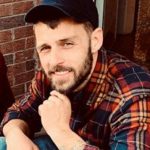 Justin Scott Ogle, 32, of Mooresville, N.C., passed away on Thursday, June 11, 2020. He was born on September 8, 1987, and lived a life surrounded by love and family.
Anyone that knew him knew he had passion for two things: baseball and his family. His first love was baseball. He was an avid baseball player who played American Legion and traveled numerous years to play.
There was not a day that Justin did not express his deep love for his wife Christina, their four beautiful children, and his immediate family. Justin was a hands-on father in a way many have never seen. His love for his family was undeniable. He worked in property management and lawn care for many years and was a perfectionist in his trade. In his free time, you could find him in the ocean for hours, playing with his children all day in the sand, throwing a football, or being a behind the scenes sports commentator. He knew every athletic stat you could ever need to know.
He was preceded in death by his grandfather, Andy Britz.
Justin is survived by his wife, Christina Ann Ogle; children, Jackson, Cameron, Zane and Fiona Ogle; mother, Beth Stacy (Mike); sister, Amanda Wolfe (Cale); grandparents, Lynn Britz, Jerry Mesimer (Sandi), and Benton Stacy (Judy); Christina's parents, Steve and Robin Horney; and numerous aunts, uncles, nieces and nephews.
A Celebration of Life will be held at 11 a.m. on Monday, June 15, 2020, at Prospect Presbyterian Church in Mooresville, with Rev. Will Gipe officiating. In lieu of flowers, memorials may be made to The Ogle Children's Benefit Fund, c/o Christina Ogle, P.O. Box 977, Mooresville, NC 28115.
Cavin-Cook Funeral Home, Mooresville, is serving the Ogle family. Condolences may be made to the family at www.cavin-cook.com.