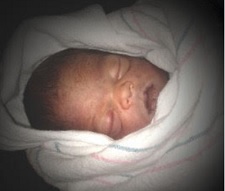 Khalid Dru Sharpe, beloved infant son of Darrius Gaither and Monyette Leatell Sharpe, was born on April 18, 2020, in Winston-Salem, N.C. He passed away on Sunday, April 19, 2020, at Wake Forest Baptist Medical Center in Winston-Salem.
He is survived by his mother, Monyette Leatell Sharpe of Greensboro; his father, Darrius Gaither of Greensboro; one brother, Jay Sharpe; three sisters, Autumn Sturghill, Laila Sharpe and Harmony Gaither; his grandparents, Kevin and Lisa Sharpe; his great grandparents, Irene Sharpe and Clara Bailey; his uncles, Kevin Sharpe II and Jerod Sharpe, both of Statesville; and a host of other relatives and loving friends.
A Private Service will be held on Thursday, April 23, 2020, at Rutledge & Bigham Funeral Home. Remember the family in your prayers.
Rutledge & Bigham Funeral Home is serving the family.