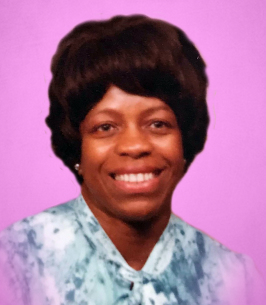 Mrs. Leona Harriet Anderson Harper was born on September 29, 1934. She was the daughter of Monroe Curtis "MC" Anderson and Annie Bell Anderson Foreman of Roanoke, Va. She departed this life on Friday, January 10, 2020, at her home.
In 1952, Leona graduated from Morningside High School. She also graduated from both Hines Business College and Ann Barium Medical School in Philadelphia, Pa. On May 6, 1954, Leona married Laurie Harper Jr., the love of her life. She loved to travel and in the 1960s and 70s they lived in Japan and Germany, where Laurie served in the U.S. Army. This past May, they celebrated 65 years of marriage.
Leona loved gardening as much as she cared about people in the community. Her favorite pastime was tending to her rose garden and volunteering to visit those who were sick. She was a life-member of Presbyterian Women Association USA, as well as an active member of Calvary Presbyterian Church in Statesville, N.C. Leona dedicated her time as a member of the Woman's Guild. She volunteered with the American Red Cross and was one of the original team members for "Cup of Water Ministry" program under Dr. Cheeks. She worked with Iredell Hospital's Activity Care for over 20 years, where she was known as the "Bingo Lady." Leona was employed in the Iredell School System as a facilitator and teacher's aide at Pressly School.
She was preceded in death by her husband, who passed away six months ago, and her sister, Anna Marie Black. She leaves two sons, Laurie Harper III and his wife, Michelle Robinson Harper, of Memphis, Tenn., and Michael Allyn Harper and his wife, Ann Fortune Harper, of Phoenix, Ariz.; six grandchildren, Loreal Harper, Cary Harper, Michele Harper Brown and her husband Andre Brown, Monique Harper, Ryan Patterson and Lauryn Harper; two great-grandchildren, Mason Harper and Audreena Patterson; her special niece, Susie Darden; a sister-in-Law, Luvivan Harper Dingle of Virginia; a brother-In-law, Abe Harper and his wife Leone of Philadelphia; and a host of nieces, nephews, her Calvary Presbyterian Church family, other relatives, neighbors and friends. She is loved and deeply missed.
Celebration of Life Services will be conducted Tuesday, January 14, 2020, at 2:30 p.m. at Calvary Presbyterian Church, USA. Reverend Timothy Bates, Pastor will officiate and burial will follow in the Veterans Section in Belmont Cemetery. Mrs. Harper will remain at Rutledge and Bigham Funeral Home until taken to the church to lie in state at 1 p.m. Members of the family will receive friends at the church from 1:30 p.m. until 2:30 p.m., but will assemble at the residence at other times.
Visit the Book of Memories for Mrs. Harper at www.rutledgeandbigham.com. Rutledge and Bigham Funeral Home is serving the family of Mrs. Leona Harper.