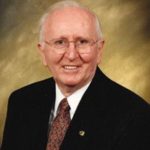 LeRoy Benson, 83, of Mooresville, N.C., passed away on Friday, April 3, 2020, at Lake Norman Regional Medical Center.
He was born on June 30, 1936 in Robbins, N.C., to the late Johnny and LuCrettie Enloe Benson. Mr. Benson was a veteran of the U.S. Navy. He was a 1964 graduate of High Point College. He was a retired accountant from JA Jones Construction in Charlotte after 33 years of service. He was a member of First Baptist Church in Mooresville, where he served as a deacon and sang in the choir. Mr. Benson loved gospel music, enjoyed being outside, reading, golfing, and fishing.
In addition to his parents, he was preceded in death by his brothers, J.L. Benson Jr. and Harley Benson; and sister, Juanita Lassiter.
Mr. Benson is survived by his wife of 58 years, Sharon Parker Benson; daughter, Lori Newby and husband Ty; and his beloved granddaughters, Amanda and Erica Newby.
A graveside service will be held at 11 a.m. on Thursday, April 9, at Glenwood Memorial Park with Rev. Eddie Hicks officiating.
In lieu of flowers, memorials may be made to First Baptist Church, 150 S. Church Street, Mooresville, NC 28115.
Cavin-Cook Funeral Home & Crematory, Mooresville, is serving the Benson family. Condolences may be made to the family at www.cavin-cook.com.