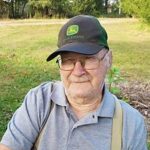 Lewis Charles Charlesworth, 91, of Stony Point, N.C., passed away Tuesday, May 12, 2020, at his residence. He was born in Alleghany County, Pa., on Wednesday, March 6, 1929. He was the son of the late William and Dorothy Mae DeLozier Charlesworth.
He was of the Jehovah Witness faith and worked in construction.
In addition to his parents, Lewis was preceded in death by his wife, Beatrice Byrd Charlesworth; one daughter, Donna Charlesworth; and two sisters, Margie Young Bauer and Joy Dechane.
He is survived by three sons, Ed Charlesworth (Joyce) and Mark Charlesworth (Teresa), both of Stony Point, and Joe Charlesworth (Mary) of Pennsylvania; two brothers, Fred Charlesworth (Marilynn) of Arizona and Jack Charlesworth (Jackie) of Louisiana; nine grandchildren; thirteen great grandchildren; and six great great grandchildren.
Services for Lewis will be held at a later date.
Chapman Funeral Home is serving the family.