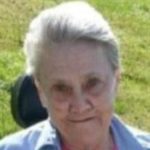 Linda Sue Cook Southard, 65, of Statesville, N.C., died Wednesday, March 25, 2020, at her residence.
She was born in Iredell County on July 14, 1954, to the late Albert Cook and Julia Ann Lunsford Cook.
Linda had worked for Carolina Mills. She enjoyed fishing, bird watching, and spending time with her family, especially her grandchildren and great-grandchildren.
Those left to cherish her memory are a son, Eric Wall (Victoria Goodin); two daughters, Tonya Summers and Teresa Alexander (TJ); seven grandchildren, Leigh-Ann Johnson, Drake Lyons, Alyssa Lyons, Akeelah Summers, AJ Summers, JR Johnson, and Natalie Wall; two great-grandchildren, Kayden Lyons and Kentrell Griffin; and three sisters, Geraldine Curtis, Violet McCoy and Christine Wynecoff.
Private services will be held with Rev. Steven Hamm officiating.
Nicholson Funeral Home is serving the family.