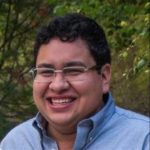 Luis Alberto Gamez-Martinez, 27, of Statesville, N.C, died January 1, 2020, as the result of an automobile accident.
He was born in Iredell County on May 22, 1992, to Juan Antonio Gonzalez and Josefina Gamez-Martinez.
Luis was a graduate of North Iredell High School. On December 28, 2013, he married Samantha Wells Gamez-Martinez. Luis was employed at Bow Wow Meow in Waxhaw, N.C., as a pet sitter.
Luis loved life. In fact, his nickname was "Life." He loved to laugh and was always quick with a joke. He loved animals of all kind, but had one special dog Miranda (Manda Panda). Luis loved EDM music, playing video games, dancing, being with his family and friends and all things Batman. He especially loved that his initials spelled LAG.
Those left to cherish his memory include his wife, Samantha; father, Tony Gonzalez (Keasha); mother, Josefina; four brothers, Marco Castro, Julio Gamez (Alyssa), Carlos Gamez, and Dakota Gonzalez; three sisters, Viridiana Velasquez (Luis), Anayeli Gamez and Aleasha Gonzalez; two nieces, Iseraily Velasquez and Abygail Velasquez; and three nephews, Israel Gamez, Julio Gamez and Israel Velasquez. Survivors in Samantha's family include her parents, Robert and Joyce Wells; a sister, Megan Hoag (JD); two brothers, Andy Wells (Katy) and Justin Wells (Felicia); six nieces, Laura, Emily, Rebecca, Callie, Lillie and Abigail; and a nephew, Bryson. Also surviving are his fur babies, Dolly, Miranda and Nala; cats, Reeses and Misty; a bearded dragon, Spyro; and kittens, Luxio and Beerus; and many other loved ones.
A Celebration of Life Service will be held Saturday, January 11, 2020, at 5 p.m. in the Chapel of Nicholson Funeral Home. The family will visit with friends following the service.
Memorials may be given to https://www.gofundme.com/f/in-memory-of-luis-gamez?utm_source.
Fond memories and condolences may be left at www.nicholsonfunerals.com.
Nicholson Funeral Home is serving the Gamez-Martinez family.