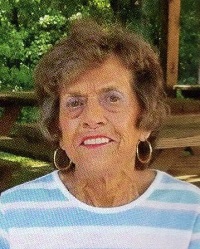 Margie Ann Lawrence Baker, 79, of Union Grove, N.C., passed away Tuesday, February 25, 2020, at Iredell Memorial Hospital. Born in Iredell County on April 15, 1940, she was the daughter of the late Robert Lawrence and Dorothy Templeton Lawrence.
In addition to her parents, Margie was also preceded in death by her husband, James Leo Baker; her sisters, Cleo Woods, Rachel Myers and Ramie Tutterow; her brother, R.G. Lawrence; and grandson, Austin Baker.
Margie graduated from Union Grove School and retired as a restaurant cook. She was a member of Union Grove Christian Church.
Those left to cherish her memory are her children, Robert (Pam) Baker, Clinton (Jeannie) Baker and Dean (Heather) Baker; her grandchildren, Matthew Baker, Little Clinton McKee, Bryan McKee, Rey McKee, Coty Brown and Alex McKee; great-grandchildren, Jericho Brown and Layla Baker; and her grand-puppies, Woodrow, Chance and Rico.
The family will receive friends at Union Grove Christian Church from 10 to 11 a.m. on Saturday, February 29, 2020. The funeral service will begin at 11 a.m. in the church sanctuary with Rev. Alan Lunsford officiating. Burial will be in the church cemetery. Memorial donations may made to Union Grove Christian Church, 1855 W. Memorial Highway, Harmony, NC 28634.
Online condolences may be left at www.bunchjohnsonfuneralhome.com. Bunch-Johnson Funeral Home is serving the Baker family.