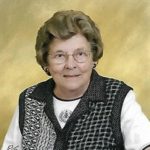 Mrs. Marie Daniels Cheek passed away February 14, 2020, after a period of declining health. She was at home, in the quiet of the early morning, in the northern Iredell countryside where she spent her entire life. Marie was 97.
Marie was born on May 28, 1922, in northern Iredell County, the third of Flake and Martha Souther Daniels' nine children. She attended Central School. She married Troy William Cheek on November 6, 1942, in Statesville. They settled on a farm in the Cool Springs community, where Marie ran the household and together they raised their family, worshipped at nearby Hebron Baptist Church and thanked God for a life rich in the blessings that count.
Marie is survived by two children, Linda Dickens of Laurens, S.C., and Sharon Garfield and her husband Ken of Charlotte; one sister, Ruth Creedmore of Statesville; and four grandchildren, nine great-grandchildren and numerous nieces, nephews and cousins. The little ones knew her as Mawmaw.
She was preceded in death by her beloved husband Troy, who passed away in 1991; her son, William Bristol Cheek; son-in-law, John Dickens; and seven brothers and sisters.
A service to celebrate her life will be at 11 a.m. on Monday, February 17, at Nicholson Funeral Home, 135 E. Front Street, Statesville. The Rev. Darren Johnson, who has been so kind to the family, will officiate. Visitation will follow.
The family is grateful for the care shown by everyone at Hospice & Palliative Care of Iredell County. Marie's primary caregiver, Phyllis Stevens, along with Paul Randol, Angela Potts and Morgan Burnett, made it possible for her to live comfortably at home the last years of her life. When caregivers become family, you have God to thank.
Illness largely confined Marie to her home in her later years. She filled her days reading the Bible, glancing at the TV, welcoming visits (especially from grandchildren) and taking copious notes about family history, Scripture verses and the like. Among her papers was the obituary she had written for herself years ago. For her date of passing, she put down "Whenever." She did so with a strong hand, for she was not afraid. She knew where she was going.
Condolences can be shared online at www.nicholsonfunerals.com. Rather than flowers, a gift in Marie's memory can be sent to Hebron Baptist Church, 175 Hebron Road, Statesville, NC 28625 or Hospice & Palliative Care of Iredell County, 2347 Simonton Road, Statesville, NC 28625.
Nicholson Funeral Home is entrusted with the arrangements.