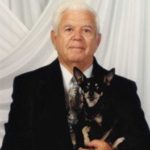 Marshall Rhyne Howard, Retired U.S. Air Force Senior Master Sergeant, 97, of Mooresville, N.C., passed away on Sunday, March 22, 2020, at Levine & Dickson Hospice House in Huntersville, N.C.
He was born on May 15, 1922, in Mooresville to the late Jay and Annie Thompson Howard. Mr. Howard served our country for 22 years in the U.S. Army and Air Force. He also saw service with the Navy, Marines, and Coast Guard. His duties took him to Panama, England, and France during WWII. He later served in the U.S., Japan, and Korea. During his military service, he earned many decorations, awards, and citations.
After military service, he worked in sales for a communication company in Charlotte. Marshall belonged and was active in the Central Methodist Church of Mooresville for most of his life until he transferred his membership to St. Mark's Lutheran Church in Charlotte to be with his wife Helen. Marshall enjoyed traveling, woodworking, reading, and his stamp collection.
In addition to his parents, he was preceded in death by his loving and devoted wife of 54 years, Cecilia Holloman Howard; daughter, Paula; sons, Marshall Jr. and Bryan; sisters, Helen H. Sloop and husband Ralph Sloop, and Margaret H. Spencer; brother, William "Mac" Howard; brother-in-law, Richard Wright; and sister-in-law, Gelene Lineberger.
He is survived by his loving wife, Helen Lineberger Howard; children, Marsha Cornelius, Phillip Howard, Jon Howard, and Eric Howard; stepsons, Derek, Drew, and Justin Smith; brother, Jay Jr. and wife Gerry; sister, Doris Wright; and sister-in-law, Sara Howard.
A private graveside service will be held at Triplett United Methodist Church Cemetery.
In lieu of flowers, memorials may be made to St. Mark's Lutheran Church Parlor Fund, 1001 Queens Road, Charlotte, NC 28207 or Triplett United Methodist Church Cemetery Fund, 838 Mazeppa Road, Mooresville, NC 28115
Cavin-Cook Funeral Home & Crematory, Mooresville, is serving the Howard family. Condolences may be made to the family at www.cavin-cook.com.