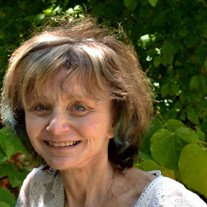 On September 6, 2020, Mary Kathryn Roman, our Sister, our Aunt, and our Friend, passed away. She was born on February 15, 1950, in Schenectady, N.Y., and was the oldest of four children.
Mary was an adventurous spirit with a drive to live life to its fullest. Mary loved seeing new places whether far or close to home. She traveled across the U.S. and Europe numerous times and loved having family join her on these adventures. Mary was a loving and generous person who loved her nieces and nephew more than words can say. Mary will be greatly missed and our love for her will carry on.
She has been reunited with her parents, Kathryn and Frank Sr. Roman. She is survived by her three siblings, Frank Jr. (Karen), Karoline (Eric), and Kathryn; nieces and nephew, Kristin, Jacy (Margarita), Suezan (Steve), and Sharon (David); great-nieces and nephews, Jacy Jr., Karina, Payton, Megan, Emily, Leo, Logan, and Luna; and her beloved Sunny.
Cavin-Cook Funeral Home, Mooresville, is serving the family of Miss Roman. Condolences may be made to the family at www.cavin-cook.com.