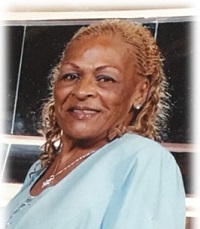 Ms. Mary Lourine Williams, 82, of Mooresville, N.C., passed away at her home on Sunday, May 10, 2020, following an extended illness. She was born in Mingo County, W.Va., on April 30, 1938, and was the daughter of the late Herbert Louis Williams and Arcie Edna Rucker Williams.
She was a graduate of Liberty High School in West Virginia and was a member of Rugged Cross Baptist Church in New York. She was a loving daughter, mother and grandmother. In addition to parents, she was preceded in death by a son, Tyrone Williams; a great grandchild, Dondi Veomans; four brothers, Herbert Williams Jr., Cephus Leroy Chester, Thomas Williams and Johnny Williams; and three sisters, Lucille Knox, Ellen Williams and Ethel English.
She leaves to cherish the memory of her life her son, Timothy Omar (Crystal) Taylor of Charlotte; two daughters, Mimi (Ethian Perkins) Yvette Epps of Brooklyn, N.Y., and Pamela Taylor (Darrell) Summers of the home; two sisters, Peggy Ann (Lloyd) Sharpe of Brooklyn, N.Y., and Nokomis (Steven) Williams of Charlotte; godchildren, Lisa Moore, Tange Jett, Jeremiah Sharpe, and Charlene Lytton; grandchildren, Steven Bowe, Nokomis Williams, Jazzell Banes, Malinda Johnson, Niasia Williams, Kendu Williams, Ashera Taylor, Nyokka Whitfield, Shylanique (Omari Sanders Sr.) Epps, Joseph Epps, Tyree Epps, Lynqusha Perkins, Rasheen Mercer, Daquan Letik Taylor, Jasmine Nicole Taylor and Timia Faith Taylor; great grandchildren, Erin Bowe, Alexis Scott, Shaydai Harris, Jaiden Harris, Maliyah Epps, Aiden Epps, Ashley Epps, Isim Sanders, Amari Sanders, Imani Sanders, Jurney Sanders, Mya Whitfield, Ramell Whitfield, Anthony Murray, Mia Johnson, Nar, Skylar Sanders, Shanice (Keshawna) Johnson, Tyrone Johnson, Charisma Williams, Shawn Williams, Sophia Blocken, Nydia Campbell, Koran Campbell, Makell Campbell, Dior Willilams, Jayden Monroe, Terrance Monroe and Chris Monroe; great great grandchildren, Isaialt Mercer, Ragheen Mercer, Jr., Zagan Johnson, Aleena Johnson, Tyrone Johnson, Nehemiah Johnson, Shanai Williams, Shanala Williams and Shamyra Mitchell; and a host of nieces, nephews, cousins, other relatives and friends.
Celebration of Life Service will be conducted Tuesday, May 19, 2020, at 2 p.m. at The Mary B. Bigham Memorial Chapel of Rutledge and Bigham Funeral Home. Pastor Angela Leach will officiate and burial will follow in the Oakwood Cemetery.
There will be no public visitation. Unfortunately, due to COVID-19, Rutledge and Bigham Funeral Home, along with other funeral homes across the country, has been issued a mandate to limit the number of family and/or friends at funeral services. You can only enter the funeral with a funeral pass, which will be given to the family.
Rutledge & Bigham Funeral Home is serving the family.