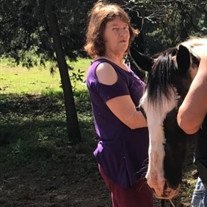 Matilda "Nookie" Alzena Campbell, 68, of Union Grove, N.C., passed away on Sunday, November 15, 2020, at Wake Forest Baptist Medical Center. She was born Sunday, June 22, 1952, in Warwick County, Va., to the late James Lester Campbell and Mary Lilly Bell Wyatt Stamper.
In addition to her parents, Nookie was preceded in death by a half sister, Novella Powell.
Nookie is survived by one son, Kenneth Elliott, and his wife Amy, one daughter, Angie Shaver, and her husband Larry, all of Statesville; three brothers, Frankie Campbell (Ann) of Statesville, Wayne Campbell (Angie) of Virginia, and Danny Campbell (Lori) of Statesville; two sisters, Ruby Ervin (Mike) and Helen Hartness (Delmore), all of Statesville; six grandchildren, Hunter, Chris, Gracie, and Brittany Elliott, and Jerry and Kristin Shaver; one great grandchild, Jeremy Jr. Bollinger; and a host of nieces and nephews.
The family will receive friends Friday, November 20, 2020, from 6 to 7:30 p.m. at Chapman Funeral Home.
Chapman Funeral Home is serving the family.