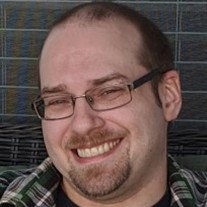 Matthew James Johnson was born at Alta Bates Hospital in Berkeley, Calif., on the day after Christmas 1987, to Andrew James Johnson and Barbara Anne Johnson. He passed away on October 10, 2020.
After attending elementary and middle school in Kearney, Neb., Matthew graduated from Kearney High School as part of the Class of 2006. During his high school years, under the teachings of Master Tim Bennet, Matthew worked toward and achieved a first-degree black belt in Taekwondo.
Matthew attended the University of Nebraska, Lincoln, studying Biology. He later transferred to The University of North Carolina Charlotte and graduated with a Bachelors Degree in Chemistry. Matthew was a member of the American Chemistry Society.
Matthew was very scientifically minded, and was always drawn to things involving computers, strategy and mechanical attributes. After graduation, Matthew went to work for All Green Recycling in Charlotte, N.C. He helped to finalize the development of a recycling process to extract the precious metals from computer component waste. This included a patent application filed with the USPTO for certain aspects of the process. He was instrumental in the set-up phases of the laboratory at the recycling center and took part in their first ever extractions of gold and other precious metals. Matthew was well liked and respected at All Green and was enormously proud to be part of their team.
Matthew is survived by his parents, Andrew and Barbara Johnson of Mooresville, N.C., and his brother, Joshuah Johnson of Charlotte, N.C., his grandmothers, Loretta Marriott of Beaumont, Texas, and Betty Johnson of Harleysville, Pa., along with seven aunts and uncles and 12 cousins.
He is proceeded in death by his grandfathers Donald H. Marriott Sr. and Dr. Marvin A. Johnson, as well as his uncle Donald H. Marriott Jr.
Cavin-Cook Funeral Home & Crematory, Mooresville, is serving the family.