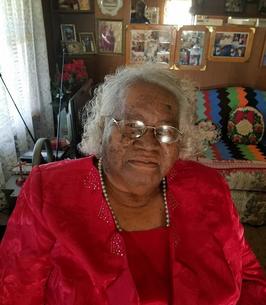 Mrs. Mattie Sharpe, 92, daughter of the late Jacob Parker Mattie Bell Clark, was born in Iredell County, N.C., on May 13, 1928. She departed this life on Tuesday, December 15, 2020.
She attended the Iredell County Schools and prior to her retirement she was employed by Troutman Shirt Company.
She leaves to cherish the memory of her life two sons, Earnest Carter (Sarah) Sharpe Jr. and Rickey (Dorethea) Young of Statesville; two daughters, Dorothy (Roman) Culbertson of Cleveland and Sheryl (Robert) Harrison of Wayne, Pa.; three brothers, David (Ella Mae) Parker and Paul Gray (Mary Lois) Parker, both of Mooresville; eight grandchildren; two great grandchildren; two great great grandchildren; and a host of nieces, nephews, cousins, other relatives and friends.
Graveside Celebration Services will be conducted on Saturday, December 19, 2020, at 1 p.m. at Shepard's Church of God Cemetery, Mooresville. Pastor Donald Brown will Officiate.
There will be no public visitation. Unfortunately, due to the COVID-19 pandemic, Rutledge and Bigham Funeral Home, along with other funeral homes across the country, has been issued a mandate to limit the number of family and/or friends at funeral services. You can only enter the funeral with a funeral pass, which will be given to the family.
General public viewing will be held on Friday, December 18, 2020, from 2 until 7 p.m. and resume Saturday, December 19, 2020, from 9 a.m. until 12 noon. You can also view Mrs. Parker's remains virtually on-line at www.youtube.com; search Mattie Sharpe Viewing.
Visit the Book of Memories for Mattie Sharpe at www.rutledgeandbigham.com.
Rutledge and Bigham Funeral Home is serving the Sharpe Family.