A Devout Christ. A Wife, A Mother, A Daughter, A Sister, A Friend to All.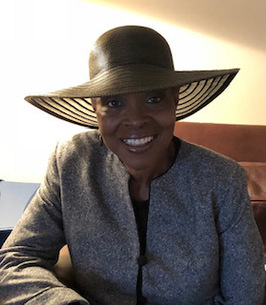 Mayola Cauthen Strickland, affectionately known as "May," was born in Spencer, N.C., on June 20, 1951, and was the daughter of the late John Junior and Mary Finger Cauthen. She departed this life on Monday, June 22, 2020, at the Gordon Hospice House following complications of Pancreatic and Liver Cancer.
She witnessed incredible changes to her world, the end of segregation, welcoming her only great grandchild, protesting for equality at HK on J at the state capital and having voted for the first Black President, Barack Obama.
The Cauthens moved to the Belmont Community when she was a young girl. Mayola was a spirited girl and attended Unity School. She spent endless hours exploring the woods with her siblings, swimming in the local creeks, racing down dirt roads and playing softball and basketball. It was then Mayola realized that she was a talented softball player. She was one of the best first base women that the Basset and Thornet Women's Softball Teams had ever seen. She loved playing in the Easter Seals Championships. This was a pastime that the entire Cauthen family would enjoy together after Sunday dinner at her parent's residence. She had impeccable work ethics, working 40-plus years in the furniture industry.
Mayola had many other passions such as dancing, cooking, cutting up with friends and family, playing cards and dominoes, shooting pool, doing hair for those who couldn't afford to go to the salon, and especially sewing and crafting anything that came to mind. And man could she cook! She would make ham biscuits and thick-cut bologna sandwiches for the patrons after closing hours of John's Chicken Shack. After she started to attend Knox Grove Baptist Church regularly, she gave her life to Christ. Mayola was an active member of the Choir, Usher Board, Hospitality Committee, and a Deaconess. She used her talents in the kitchen to feed her home church and those who were less fortunate.
Years later her spirit led her to Clark's Chapel Baptist Church, where she found her church home. Her life was a living example of her favorite Bible verse, Psalm 23. Mayola truly loved the Lord and it was amplified in everything she did.
At the age of 12, she met the boy that would later become her loving husband, John Henry Strickland. Upon seeing him ride his bike down the street with her brothers, she told her sister, Dottie, "I'm gonna marry that boy." And she did! They remained together for 53 years. There were inseparable!
She was the beloved Mother of Martha, Katty (Jay), Teresa and the late twins, Robin and Robinette; proud Grandma of Santana, Courtney, and Mayanna; and devoted Great Grandma of John Michael, along with her Sons from another Mother, Jamie Mack, Chris Bryant, Eric Broadie and Shonn Turner, as well as a host of other "children" she adopted as her own over the course of the years. She was the cherished sister of Gary (Pam) Cauthen, Jerry (Brenda) Powell, Peggy Cauthen, Janet Cauthen, and a sister-in-law, Annie Cauthen; a brother-in-law, Elton Rhinehardt; and loved by a host of nieces, nephews, aunts, uncles, cousins, other relatives, brothers and sisters in Christ, and friends.
With a smile that could light up a room, beautiful skin and hair accompanied with a killer sense of style, she could have easily graced the covers of magazines. Always stylin' and profilin', you'd never catch her with a hair out of place.
Mayola had a vivacious personality and always made people around her laugh. She made friends everywhere she went; all of whom loved her dearly and will never forget her tenacity, wit, charm, grace and undying love for them.
Her children arise up, and call her blessed;
her husband also, and he praiseth her.
Many daughters have done virtuously,
but thou excellest them all;
Favor is deceitful, and beauty is vain:
but a woman that feareth the Lord, she shall be praised.
Give her of the fruit of her of the fruit of her hands;
and let her own works praise her in the gates.
Proverbs 31:28-31
Celebration of Life Services will be conducted Saturday, June 27, 2020, at 1 p.m. at Rutledge and Bigham Funeral Home. Reverend Dr. Dietrich A. M. Danner will officiate.
Visit the Book of Memories for Mayola at www.rutledgeandbigham.com.
Rutledge & Bigham Funeral Home is serving the family.