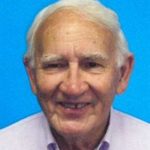 Melvin Harlon Danyels Jr., 84, of Mooresville, N.C., passed away on Tuesday, March 17, 2020. He was born on October 9,1935, in Statesville, N.C., to the late Melvin and Myrtle Snipes Danyels.
Mr. Danyels was retired from the Mooresville Post Office after 30 years and was a telegraph operator at Southern Railroad. He attended Mount Mourne Church of God.
In addition to his parents, he was preceded in death by sisters, Ophelia Gardner, Audrey Bare, and Oneida Howard.
He is survived by his loving wife, Doris Hager Danyels; children, Richard "Rick" Danyels (Karen), Timothy "Tim" Danyels (Nancy), and David Danyels; sister, Brenda Brackett (Larry); brother, Chuck Danyels (Vickie); five grandchildren; eight great grandchildren and one great-great grandchild.
A graveside service will be held at 11 a.m. on Friday, March 20, 2020, at Glenwood Memorial Park, Mooresville with Rev. Donald Caldwell officiating.
Cavin-Cook Funeral Home & Crematory, Mooresville, is serving the Danyels family. Condolences may be made to the family at www.cavin-cook.com.