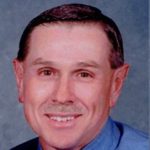 Michael Howard Morrow, 68, of Mooresville, N.C., passed away on Tuesday, August 18, 2020, at Levine & Dickson Hospice House.
Mike was born to the late George Frank Morrow and Helen Surratt Morrison on October 17, 1951, in Statesville, N.C. After graduating from Mooresville High School, Mike worked for the Town of Mooresville as a Traffic Tech for 32 years. He was a faithful member at Abundant Life Church and also loved being able to spend time at Point Blank Range in Mooresville.
Mr. Morrow is survived by his loving wife of 45 years, Vickie Willis Morrow. Mike is also survived by his cousins, Richard Craver, who was as close as a brother, and Tina Peach; sisters-in-law, Cola Kennerly (Allen) and Wanda Davis (Robert); and niece and nephews, Jamey Shuemaker, Brad Davis, Kyle Davis, Nicholas Craver, Krystle Craver Johnson and Matthew Peach.
The Morrow family will be receiving friends on Friday, August 21, 2020, from 1 to 2 p.m. with a service, officiated by Pastor David Giles and Pastor Farrell Lemings, to follow at 2 p.m. at Cavin-Cook Funeral Home and burial at Triplett United Methodist Church.
In lieu of flowers, memorials can be made to: Abundant Life Church, 119 Foursquare Road, Mooresville, NC 28115, or Levine & Dickson Hospice House, 11900 Vanstory Drive, Huntersville, NC 28078.
Cavin-Cook Funeral Home & Crematory, Mooresville, is serving the family.