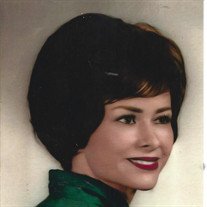 Mrs. Miriam Eller Moose, 87, of Statesville, N.C., died Sunday, December 13, 2020, at her home. Born in Ashe County, N.C., on March 17, 1933, she was a homemaker and a member of St. Marks Baptist Church.
She was preceded by her husband, Clyde Wayne Moose, on October 15, 2012.
Survivors include a sister-in-law, Johnsie Moose Reavis; and her caregivers, Martin (Alex) and Tammy Chavez. Also surviving is a step daughter, Jennifer Comans.
Graveside services are scheduled for 2 p.m. on Friday at St. Marks Baptist Church with Rev. Dr. J. B. Parker Jr. officiating.
The body will lie in state at the church for one hour prior to the service.
Condolences may be sent online to the family to www.nicholsonfunerals.com. Memorials may be given to Hospice & Palliative Care of Iredell County, 2347 Simonton Road, Statesville, NC 28625 or to St. Mark's Baptist Church, 1852 Old Wilkesboro Road, Statesville, NC 28625.
Nicholson Funeral Home is entrusted with the arrangements.