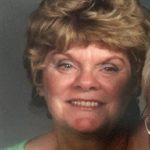 Nancy Lynn Burns, 70, of Statesville, N.C., passed away July 12, 2020, at Wake Forest Baptist Memorial Hospital in Winston-Salem, N.C.
She was born May 4, 1950 in Hudson, N.Y., the daughter of the late Edward Krier and Jean Rider Krier. She was preceded in death by her parents.
Left to cherish her memory are her loving husband of 34 years, Kevin; her sister, Judy (Michael) Alexander; brother, Alan (Carrie) Krier; brothers-in-law, Casey Burns and Brian (Linda) Burns; several cousins, nieces and nephews and all their loving children; and her mother-in-law, Beverly Burns.
Nancy was the Office Manager at the Family Business, R. E. Burns & Sons Co. Inc. of Statesville, N.C.
The Family will receive friends from 6 until 8 p.m. on Friday, July 24, 2020, at Nicholson Funeral Home, 135 E. Front Street, Statesville, N.C.
A Funeral Mass will be held at 11 a.m. on July 25, 2020, at St. Philip the Apostle Catholic Church, 525 Camden Drive, Statesville, NC 28677. A reception will follow the mass in the Church Social Hall.
Nancy will be buried in the family cemetery plot in Cape Vincent, N.Y.
In lieu of flowers, please donate to the "Forward with Christ Building Campaign " at St. Philip the Apostle Church.
Nicholson Funeral Home is serving the family.