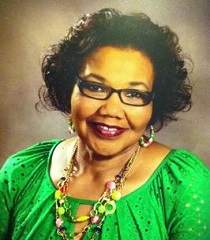 Pamela Denise Parker McWhorter, 56, of 40 Parker Feimster Lane, Stony Point, N.C., passed away on Monday, November 2, 2020, at her residence. She was born November 16, 1963, in Davie County and was the daughter of Stanley Parker Sr. and Connie Houpe Parker, and the late Charles Morrison.
She was a graduate of Alexander Central High School in Taylorsville and Catawba Valley Community College in Hickory. She knew she wanted to be a secretary from the age of five and fulfilled that dream through her job with the City of Statesville Water Resources Department as Office Manager, serving as Church Secretary for St. John Baptist Church (Statesville) and Third Creek Baptist Church (Stony Point), and serving as Corresponding Secretary for the Mountain & Catawba Missionary Baptist Association for over 25 years. She also served the Alexander County Union as Secretary and served on the Constitution Committee for the General Baptist State Convention. She recently received her certification as a Certified Church Administrator.
She was a very active member of Third Creek Baptist Church for most of her life, serving as Church Secretary, Church Clerk, Usher, Sunday School Teacher, Vacation Bible School Teacher, Christian Education Director, Choir Member, and a member of WillfulPraise. Pam loved to sing, and being a member of WillfulPraise at her home church was always dear to her heart. After joining the discipleship of St. Paul Baptist Church (Charlotte) in June of 2014, she quickly became involved in Sunday School, Bible Study, Women of Worth Ministry, and singing in the Mass Choir, a dream of hers since the first time she heard them sing. She assisted with missions projects such as the Women's Day Weekend, Clothing Closet, and Food Bank. She recently became a part of Advance Carolina and was excited about the political change she would help create in the surrounding communities.
Pamela loved to have fun, participate in the Drama Ministry, host parties, and sing and play with the Mighty Clouds of Third Creek. She started a Women's Ministry called Sister 2 Sister. Desktop publishing and helping churches with their needs was a passion of hers. She bowled with several leagues over the years and enjoyed scrapbooking and couponing. She was a diehard Dallas Cowboy fan since 1979. After traveling back and forth to Charlotte and attending a game, she tried to become a Carolina Panthers fan, but could not commit to the change.
She was preceded in death by her husband of 23 years, John Richard McWhorter. She is survived by her two daughters, Genesis Evon McWhorter of Germany and India Symone McWhorter of Hickory; two sisters, Sonya Parker of Stony Point and Ericka Morrison of Winston-Salem; one brother, Stanley Parker Jr. (Caroline) of Taylorsville; several nieces, nephews, aunts, uncles, sisters-in-law, and friends, including special friends Dr. Darryl and Josie McConnell, Rev. Dwayne and Fryn Harris, and Dr. Greg Moss Sr.
Funeral services are scheduled for Tuesday, November 10, 2020, at 1 p.m. at Rutledge and Bigham Mortuary, 603 South Center Street, Statesville, N.C.
Rutledge and Bigham is serving the McWhorter family.