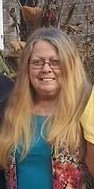 Patricia Walden Cook, 66, of Stony Point, N.C., passed away unexpectedly on Saturday, April 4, 2020, at her residence.
Pat was born May 12, 1953, in Iredell County and was the daughter of the late William Dennis Walden and Helen Rimmer Christopher. She grew up at Barium Springs Home for Children and was a graduate of South Iredell High School. She previously worked for Kewaunee Scientific Inc. and was of the Baptist Faith.
Pat is survived by three children, Gregg Nolan Stevenson Jr. (Lora Hanna) of Mooresville, Derek Wayne Stevenson (Jatana) of Statesville, and Krista Stevenson Bolick (Shane) of Statesville; seven grandchildren, Nolan Charles Stevenson, Abigail Elizabeth Flohr, Sydney Kathryn Stevenson, Sage Chipper Stevenson, Scout Laine Stevenson, Gavin Cole Bolick, and Tanner Austin Bolick; three brothers, Mike Walden of Statesville, Jeff Walden of Clemmons, and Doug Walden of Statesville; and numerous nieces and nephews. She was preceded in death by one brother, Thomas Paul Walden.
Graveside services will be held at 11 a.m. on Wednesday, April 8, 2020, at Mt. Nebo Baptist Church with Rev. Brian Eades officiating.
In lieu of flowers, memorials may be made to Children's Hope Alliance – Barium Springs Alumni Fund, 156 Frazier Loop, Statesville, NC 28677. Online condolences may be made to the family at www.troutmanfuneralhome.com.
Troutman Funeral Home is serving the family.