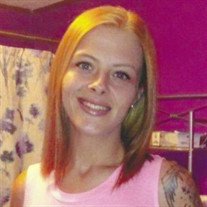 Rebecca Lynn Tulbert Hayworth, 29, of Statesville, N.C., passed away suddenly on Sunday, October 18, 2020. Rebecca was born On November 12, 1990, to Dean and Faye Norman Tulbert. She was preceded in death by her great-grandmother, Bonnie Norman; grandparents, Henry and Betty Norman and Larry Tulbert; and an uncle, Dwayne Norman.
She had worked in the packing department in the furniture manufacturing business. Rebecca loved music and gardening. She never met a stranger, and she loved to joke around and have fun.
Those left to cherish her memory are her husband, Daniel Hayworth; children, Jordan Martin "Gabriel" Moore and Justin Quinn "Dwayne" Moore; her mother, Faye Norman Tulbert; her father, Dean Tulbert (Linda Stroud); a brother, Jesse Tulbert (Diana); and grandmother, Annie Ruth Tulbert; as well as many aunts, uncles and cousins.
A Celebration of Life Service will be held Saturday, October 24, 2020, at 1 p.m. at West Yadkin Assembly of God with Pastor Joey Moore and Bobby Jenkins officiating. Burial will follow in the church cemetery. The family will visit with friends from 11:30 a.m. to 12:45 p.m. at the church prior to the service.
Fond memories and condolences may be left at www.nicholsonfunerals.com.
Nicholson Funeral Home is serving the family.