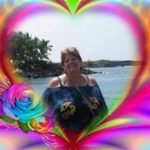 Rev. Jane Elynn Gardner Casey, 64, of Statesville, N.C., went home to be with the Lord on Wednesday, February 19, 2020.
Born in Washington, D.C., on January 10, 1956, Jane was the daughter of the late Eugene Gardner and Mary Louise Fleming Gardner. She was a graduate of Fauquier High School in Virginia. On June 26, 1982, she married Jeffrey Casey, and they shared 37 years of marriage until her passing.
Jane was employed with Home Instead as a CNA. She was a member of Horizon Church in Statesville. With a servant's heart and her husband by her side, Jane became an Ordained Minister whose ministry took her all over the world, making friends from all walks of life. She was the past president of Aglow Fellowship in Fredericksburg, Va., and she also ministered to women in jail through her jail ministry. Her focus was God and family. She loved her family with all her heart. She strived to bring out the very best in people, even when they, themselves, failed to see it. Her love was not limited to her kids alone, as she was a mother figure to many. Everyone was welcome as she always had a place at her table. Make no mistakes about it, she had a very special and deep love for her grandchildren. She will be missed by all who had the blessing to have been a part of her life.
In addition to her husband Jeff, she is survived by four children, Shane Gardner, Justis Casey, Daniel Casey and Melody Casey, all of North Carolina. She is also survived by seven grandchildren, Samuel Gardner, Madeline Gardner, Skylar Harper, Dakota Harper, Jayden Casey, T-Rex Casey, and Jaxen Casey. She is further survived by three sisters, Lori Gardner of Kentucky, Sharon Carcia of New York and Georgia Greer of Colorado; and one brother, Eddie Gardner of Virginia.
A service to celebrate the life of Jane Casey will be conducted at 11 a.m. on Thursday, February 27, 2020, at the Horizon Church with Pastor Jason Bost and Pastor Charles Williams officiating. There will be an informal visitation for 30 minutes prior to the service at the church. A celebration of life service will also be held at Crossroads Vineyard Church, 952 Bragg Road, Fredericksburg, VA 22407, on March 21, 2020, with a time to be determined.
Nicholson Funeral Home in Statesville is honored to be serving the family of Jane Casey.