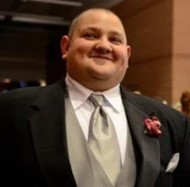 Ricky Touchette, 30, of Mooresville, N.C., passed away on Sunday, December 27, 2020.
He was born on January 26, 1990 in Chicopee, Mass. Ricky is survived by his parents, Richard and Rhonda Touchette, and his younger brother, Ross Touchette.
Ricky was on staff at The Cove Church for 13½ years. As Technical and Audio Coordinator, he used his passions and talents for ministry. Ricky was such a talented production professional who left an impact on so many people.
He had a love for spending time with friends and family and always made us smile. He loved jet skiing, 4-wheeling, and winter sport snowmobiling.
His funeral will be held at 1 p.m. on Thursday, December 31, 2020, at The Cove Church, 197 Langtree Road, Mooresville NC 28117.
In lieu of flowers, memorials may be made to The Cove Church, 197 Langtree Road, Mooresville, NC 28117 or Pure Heart Ministries Inc., 260 Cannon Road, Statesville, NC 28625.
Cavin-Cook Funeral Home & Crematory, Mooresville, is serving the Touchette family. Condolences may be made to the family at www.cavin-cook.com.