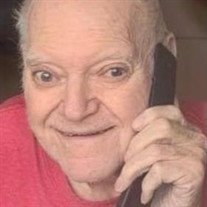 Robert Kenneth Benzinger, 80, of Harmony, N.C., passed away peacefully in his sleep on November 29, 2020, at Autumn Care of Statesville, N.C. He was born September 4, 1940 in New London, Conn., the son of the late Joseph K. and Ethel Benzinger.
Robert graduated high school in Windham, Conn., and was the oldest of 14 children, eleven sisters and two brothers. He met his wife, Celia Clauson, at church, and they were married at the Willimantic Seventh-Day Adventist Church in 1962. They raised their children in Colchester, Conn.
Robert worked for HR Hanson, selling livestock and equipment, and then started several business ventures of his own, including BMB Builders, BCB Equipment and BJ's Bulldozing. Robert had a passion for his church family and community service, where he met and made many lifelong friends.
Left to cherish his memory are his devoted wife of 58 years, Celia Ann Benzinger; daughter, Lori Jones (Jack); son, Ronald Benzinger (Nereida); grandchildren, Tyler A. Buckley (Ellen) and Emily Buckley (Devin); great grandchildren, Soloman and Benjamin Buckley; and numerous other loving family and friends.
A memorial service will be held at 3 p.m. on Thursday, December 3, 2020, at Mocksville Seventh Day Adventist Church. A memorial service in Connecticut will be announced at a later date in the spring of 2021.
Nicholson Funeral Home is assisting the family. Please share condolences with the family at www.nicholsonfunerals.com.