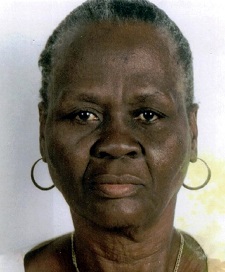 Rose Previllon, 80, of Statesville, N.C., passed away on July 18, 2020, at Autumn Care of Statesville. A native of Haiti, she was the daughter of Boivert Previllon and Idora Fenelus.
She was a Homemaker and a member of the First Haitian Church of Grace in Charlotte. She is survived by her significant other, Joachim Yacinthe; by a daughter, Nadia Pretit-Frere; by sons and their wives, Eli Yacinthe (Maryna) and Gerard Jacques (Ketty Jacques); by Denise Daniel; Cassandra Daniel; Haranise Daniel; Emmanuel Jean; Shirley Darland; and Araline Daniel, all of Statesville. Her grandchildren, Eli Jr., Elizabeth, Ellie, and Elias Yacinthe; Lorvensky, Elton, and Elton Pretit-Frere, Jr.; Jamima Jacques, Isaiah and Samuel Daniel, and Steeve Jacques, also survive her.
A service celebrating the life of Rose Previllon will be held on Saturday, July 25, 2020, at 3 p.m. in the Chapel of Bunch-Johnson with Pastor Surin Saint Fleur and Adenet Medacier officiating. The family will receive friends between the hours of 1 and 3 p.m. on Saturday. She will lie in repose on Friday, July 24, 2020, from 9 a.m. until 4 p.m. Interment will follow the Celebration of Life at Oakwood Cemetery.
A reception will follow the interment at Bunch-Johnson Funeral Home. Please consider that COVID-19 Guidelines, as ordered by the Governor, will be followed. The Funeral Service will be streamed through Facebook Live by Eli beginning five minutes prior to the service.
Condolences may be sent to the family online at http://www.bunchjohnsonfuneralhome.com.
Bunch-Johnson Funeral Home is honored to be entrusted with the care of the Mrs. Previllon and her family.