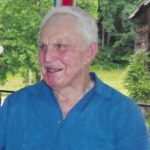 Roy Lee Bowles of Statesville, N.C., passed away on May 15, 2020, at the age of 88.
The son of Ernest Lee and Sarah Drye Bowles, Roy was preceded in death by his siblings, Ruth, Mildred, Alfred and Donald.
He is survived by his wife, Nancy Overcash Bowles; children Kim and husband Rick Fearing, Kelly Styles, and Bud and wife Rhonda Styles; as well as grandchildren, Josh Johnson and Brittany Moore; and great grand-children, Aidan and Dylan Johnson.
A U.S. Air Force Veteran, Roy loved God, his wife Nancy, his family, and his country. Though often quiet and reserved, Roy touched those he loved deeply and his presence will be missed. Those close to him will remember his love of laughter and telling jokes as well as his tender heart.
Other than his military service, Roy was dedicated to his dairy farm until his retirement. He enjoyed working the fields and living off the land.
Roy will lie in state at Bunch-Johnson Funeral Home in Statesville, N.C., on Tuesday, May 19, 2020. A small graveside service will be held at Mountain View UMC church at 11 a.m. on Wednesday, May 20, 2020.
Online condolences may be left at www.bunchjohnsonfuneralhome.com.
Bunch-Johnson Funeral Home is honored to be serving the Bowles family.