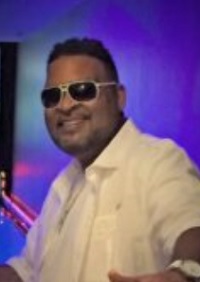 Russell Albert McClelland was born in Statesville, N.C., on April 13, 1977, to Patricia Diane McClelland and Albert Dean McClelland. He was born premature and came into this world early. Tragically, he departed this world way too soon on Tuesday, July 21, 2020.
Russell's pride and joy was his daughter, River. His wife, Syretta, was a close second. He was definitely all about his family and was happiest when he was in the midst of a family gathering. He would always say that he got that trait from his Papa.
Russell was the life of every party, and his smile was infectious. To know him was to love him. Russell didn't meet a stranger, and his inviting spirit put everyone at ease.
He was a self proclaimed grill-master and welcomed a cook-off for anyone who would dare to test his skills. Again, a trait that Russell said he got from his Papa.
During football season, Russell was able to combine his love of family with his love of football. The Carolina Panthers was his team, and if Russell wasn't at the game, he wanted to be somewhere around the stadium tailgating. Russell's tailgating parties were a family affair. He would be up at the crack of dawn to make sure that he got the best tailgating location.
Russell accomplished anything that he set mind on. From finishing school, to opening a business, to learning to landscape, or fixing the kitchen sink, Russell did what needed to be done and didn't complain.
Russell is survived by his wife of 25 years, Syretta; his daughter, River; his mother and father, Patricia and Albert; mother-in-law, Pansy; grandmother, Beatrice; two brothers, Rufus and Tyrell; two sisters, Kimberly and Rena; brother-in-law, Shawn; sister-in-law, Kizzy; seven nieces, Destiny, Kortney, Raven, Amber, Rue, Diorah, and Chloe; three nephews, Malik, Skye, and Divine; aunt, Rhon; two uncles, Ricky and Dennis; and cousins and many friends.
He was preceded in death by his papa, Rondal; three aunts, Carol, Sharon, and Sherry; cousin, Nikki; and nephew, Dakai.
Russell, we already miss you terribly.
Celebration of Life Services will be conducted Friday, July 24, 2020, at 5 p.m. at Rutledge and Bigham Funeral Home. Elder Tim Dalton will officiate and Bishop Terry Dalton will eulogize. Musical selections will be provided by Keith Holland.
Visit the Book of Memories for Mr. McClelland at www.rutledgeandbigham.com.
Rutledge and Bigham Funeral Home is serving the family of Mr. Russell McClelland.