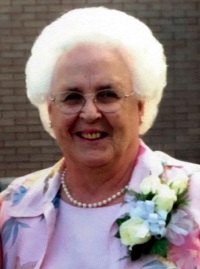 Ruth Irene Bost Dagenhart, 93, of Statesville, N.C., passed away on November 22, 2020. Ruth was born in Iredell County to the late William and Lizzie Bost on December 19, 1926.
She was preceded in death by her husband, Harold Dagenhart; four brothers, Albert Bost, Kenneth Bost, Francis Bost and Charles Bost; six sisters, Evelyn B. Thompson, Lois B. Boan, Rachel B. Lamberth, Inez B. Rabon, Mary Lizzie B. Miller and Louise B. Crawford.
Those left to love and cherish her memory and to mourn her loss are her daughter, Anita D. Riddle; two grandchildren, Patrick M. Riddle (Nadja) and Amy R. Messick (Kirk); three great grandchildren, Zack Riddle, Brody Messick and Ava Messick; a sister, Dorothy Ottone; a brother, Rayford Bost; two sisters-in-law, Mary Hooks and Lorene Bost; and many nieces and nephews.
Ruth loved to travel and host people at her home with good food. She was a wonderful person, and she loved to sew, garden and cook for everyone. No one ever left hungry. People were always stopping by to visit, and with such a big family there were many memorable moments. The family will certainly miss Ruth welcoming everyone and having the fellowship with her presence. She will be missed by all who knew her.
A private graveside service will be held on Wednesday, November 25, 2020, at Iredell Memorial Park.
Memorial contributions may be made to Fifth Street Ministries in Statesville, 1421 5th Street, Statesville, NC 28677.
Bunch-Johnson Funeral Home is honored to be serving the family of Ruth Dagenhart.