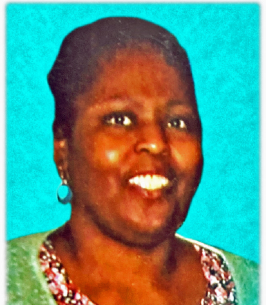 Sally Bell Johnson was born in Anderson County, S.C., on July 18, 1963, and was the daughter of the late Frank Johnson and Hattie Bell Byrd Johnson. She departed this life on Thursday, October 14, 2020, in Statesville, N.C.
She was a 1981 graduate of Statesville High School and earned a four-year degree from Gardner Webb University. She was a member of Freedom Church International. She was employed as a CNA doing private duty nursing for many years, and also cared for many people in the community.
She leaves to cherish the memory of her life one sister, Frankcine Johnson of Statesville; three brothers, Robert Peet, David Johnson and Jesse Johnson, all of Statesville; a host of nieces and nephews, Deon Knox, Sherrell Satterfield, Terrell Satterfield, Melaysia (Brandon) Joyner, Malika Patterson, Jack (Mary) Lyons, Eloise (Gary) Roseboro, Crystal "Crissy Baby" Peet, Robert Peet Jr., Cassandra (Paris) Lucas, Anita "Nickie" Knox, Patrick (Kathryn) Turner, Crystal "Cris" Knox, and Angela "Angie B." Johnson; and a host of other nieces, other nephews, aunts, uncles, cousins, other relatives, church family and friends.
In tears we saw you sinking
and watched you fade away
Our hearts were almost broken
We wanted you to stay
But when we saw you sleeping
So peacefully free from pain
How could we wish you back with us,
to suffer that again.
It breaks our hearts to lose you
But you did not go alone
For part of us went with you
The day God called you home.
Celebration of Life Services will be conducted Sunday, October 18, 2020, at 3 p.m. at Rutledge and Bigham Funeral Home. Dr. Tammy Fraley will officiate and Overseer Sandra W. Forney will eulogize. Burial will follow in the Belmont Cemetery.
There will be no public visitation. Unfortunately, during the COVID-19 pandemic, Rutledge and Bigham Funeral Home, along with other funeral homes across the country, has been issued a mandate to limit the number of family and/or friends at funeral services. You can only enter the funeral with a funeral pass, which will be given to the family.
Visit the Book of Memories for Sally at www.rutledgeandbigham.com. Rutledge and Bigham Funeral Home is serving the Johnson Family.