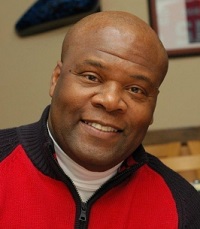 Samuel Harold Chambers Jr., affectionately called "Sam," passed away in South Boston, Va., on Friday, April 17, 2020, surrounded by his loving wife, Illora.
Sam was born July 6, 1957, Chapel Hill, N.C., to the late Samuel and Nellie Chambers. He received his early education in the Halifax County School System. After graduation from Halifax County High School, he attended North Carolina Central University and majored in psychology and received a Master of Public Administration at North Carolina State University. Sam served as assistant city manager of Goldsboro, N.C., assistant city manager of Hickory, N.C., and assistant city manager of North Las Vegas, Nev., retiring from North Carolina and Nevada local government in 2018.
Sam is survived by his beloved wife, Illora Rankin Chambers; sister, Prudence Mavis Chambers of South Boston, Va.; mother-in-law, Mary Rankin Derr of Statesville, N.C.; brother-in-law, Eric Rankin (Mary) of Hickory, N.C.; niece, Jontae Tyshawn Buxton (Leon) of Winston-Salem, N.C.; nephew, Eric Rankin II of Hickory, N.C.; godson, Dontre Smith of Alexandria, Va.; three great nephews, Braylon, Peyton, and Mason Buxton of Winston-Salem, N.C.; and a host of cousins, other relatives and friends and his beloved "service dog" Banksy.
Special thanks for his care and treatment to Duke Cancer Center, Durham, N.C., and appreciation to the Liberty HomeCare & Hospice Services of Danville, Va.
Public viewing for family and friends will be held Monday, April 20, from 12 to 5 p.m. and Tuesday, April 21, from 10 a.m. until 3 p.m. at Jeffress Funeral Home in South Boston, Va.
In the family's sincerest desire to protect others and maintain recommended restrictions during the COVID19 threat. Immediate family-only Celebration of Life Services will be held on Wednesday, April 22, 2020, at 2 p.m. at Rutledge and Bigham Funeral Home and burial to follow in the Logan Presbyterian Church Cemetery in Scotts, N.C.
Rutledge and Bigham Mortuary is serving the family of Mr. Samuel Harold Chambers Jr.