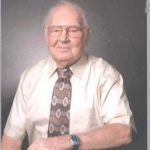 Mr. Samuel Marion Lowrance, 91, of Statesville, N.C., died Monday, April 20, 2020, at his home. Born in Rowan County on August 25, 1928, he was a son of the late Samuel A. Lowrance and Pearl Robinson Lowrance. In addition to his parents, he was preceded in death by his first wife, Evelyn Josey Lowrance; brothers, Jimmy, Carl and PY (Pearl Young) Lowrance; and sisters, Alma Oliphant and Gertrude Skipper.
He was a member of Front Street Baptist Church and was a retired superintendent for Star Milling Company after 40 years of service. He served in the U.S. Army. He was an avid home improvement specialist and jack of all trades.
Survivors include his wife, Nancy Wilson Josey Lowrance; a daughter, Susan Lowrance Boyd of Statesville, and her children, Jennifer Hedrick (Sonny); his son, Samuel Mark Lowrance (Jane) of Mooresville, and their children, Meghan Trimble (Jay) and Melanie Lowrance (Vincent); and a daughter, Sandra Knell (David) of Statesville, and their children Christie Mackey (Mike) and Heather Walters (Trace).
Also surviving are two step-daughters, Beth Bruner (Gary) of Hollyville, Texas, and their children, Jeffrey Bruner (Lorene) and Stacey Filosa (Matt), and Cathy Foster (Ron) of Euless, Texas and their son, Matthew Foster (Danielle). Also surviving are 10 great grandchildren, Cole, Samuel Trace and Taylor Hedrick, Bryce and Carson Weston, Claire and Jackson Trimble, Rylee, Reese and Rowen Mackey, along with six step-grandchildren, Anna Bruner, Harrison and Madelyn Filosa and Lilliana, Liam and Lyn Lee Foster.
Graveside services will be conducted at 3 p.m. on Friday at Oakwood Cemetery with Dr. Chris Thompson officiating. The family will speak with friends following the ceremony at the cemetery.
Fond memories and expressions of sympathy ay be shared at www.nicholsonfunerals.com. Memorials may be given to the Gordon Hospice House, c/o Hospice & Palliative Care of Iredell County, 2347 Simonton Road, Statesville, NC 28625.
Nicholson Funeral Home is entrusted with the arrangements.