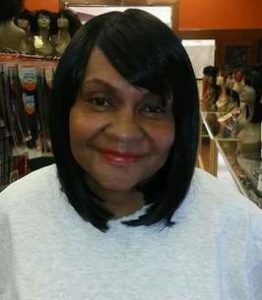 Mrs. Sherry Ann Eccles Heaggans, 59, was born in Iredell County on December 28, 1960. She was the daughter of the late James and Wilbur Hayden and her birth parents were the late Sherman Shuford and Betty Jean Eccles Jones. She departed this life on Monday, June 8, 2020, at the Gordon Hospice House following an extended illness.
She attended the Iredell County Schools and prior to her disability was employed at Brian Center. She was married to Michael Heaggans. In addition to her parents, she was preceded in death by Kathelia Harrison, Crystal Alexander, Tracy Alexander, and Richard Jones.
She leaves to cherish the memory of her life, in addition to her husband Michael of the home, two sons, Latraiven Heaggans and Michael Hayden, both of Statesville; two grandchildren, Lattravius "Trae" Heaggans and Jaylen Heaggans; brothers, Tony Hayden, Kenneth Jones, Donnie Gibbs, Andrey Gibbs, John Edward Murdock, Larry Shuford Sharpe and John Alexander; sisters, Peggy (Willie) Belton, Angela (Lucius) Harrison, Phyllis Jones, Pamala Anderson, Renae Polk, Donna Holmes, and Beverly Allison; three sisters-in-law, Rita Heaggans, Charlette Harrell, and Teresa Smith, all of Statesville; four brothers-in-law, Ronald (Rheda) Heaggans of Belleville, Ill., Bernard (Deborah) Heaggans, Anthony Reddick of Statesville, and Charles Wayne (Vanessa) Heaggans of Cleveland N.C.; a special niece, Delicia Holmes Guyton of Baltimore, Md.; and a host of nieces, nephews, aunts, uncles, other relatives and friends.
In tears we saw you sinking, and watched you fade away
Our hearts were almost broken because we wanted you to stay,
But when we saw you sleeping, so peacefully and free from pain
How could we wish you back with us, to suffer that again,
It breaks our hearts to lose you but you do not go alone
For part of us went with you, the day God called you home.
Our love for you continues
Celebration of Life Services will be conducted Friday, June 12, 2020, at 1 p.m. at Rutledge and Bigham Funeral Home.
Visit the Book of Memories for Sherry at www.rutledgeandbigham.com.
General Public will resume on Friday, June 12, 2020, at 9 a.m. until the funeral hour.
There will be no public visitation. Unfortunately, with the COVID-19 crisis, Rutledge and Bigham Funeral Home, along with other funeral homes across the country, has been issued a mandate to limit the number of family and/or friends at funeral services. You can only enter the funeral with a funeral pass, which will be given to the family.
Rutledge and Bigham Funeral Home, 603 South Center Street, Statesville, N.C., is serving the family of Mrs. Sherry Ann Heaggans.