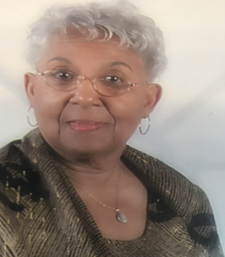 Shirley Corrine Morrison-Tabor, daughter of the late Robert and Catherine Morrison, was born in Iredell County on August 8, 1934. She departed this life on Sunday, September 6, 2020, in Silver Springs, Md., after a lengthy illness. She was preceded in death by her husband, Edward A. Tabor Sr., their daughter, Carol Dunlap; two brothers, James Lawrence and Luther Warren Morrison; and one sister Nancy Gaymon.
Shirley was educated in the Iredell County Public School System, having attended Unity High School.
Shirley was employed by a prominent Statesville physician, Dr. Pressley, until her marriage. After marrying, Shirley relocated to Washington, D.C. While living there she was employed with Charles A. Swartz and Son's Fine Jewelers for many years until she and Ed retired and returned to live in Cleveland, N.C., in 1995. Shirley was also employed by Brendel's and JC Penney Co, in the jewelry department in Salisbury, N.C.
Church was an important part of the Morrison family life and Shirley attended and was baptized in Clark's Chapel Baptist Church. She and Ed were also married in Clarks Chapel. After their marriage, Shirley and Ed became devoted members of Highland Acres Church of Christ.
Shirley leaves to cherish fond and loving memories a son, Edward A. Tabor Jr. of Silver Springs, Md., daughter, Robin Summers (Cecil) of Winston Salem, N.C., sisters, Evelyn Gibbs, Karen Morrison and Wanda Beatty (Ricky) of Statesville, N.C., and Lynda Morrison-Prattis of Philadelphia, Pa.; brothers, Norman Morrison of Statesville, N.C., John Robert Morrison (Sue) of Charlotte, N.C., and Steven Morrison of Virginia, sisters-in-law, Margaret Clement (James) of Mocksville, N.C., Jackie Tabor of Huntersville, N.C., and JoAnn Morrison of Statesville, N.C.; one brother-in-law, Dewain Tabor (Patsy) of Statesville, N.C.; four aunts, Joan Morrison, Annie Morrison and Jo Carolyn Morrison, all of Statesville, N.C., and Ethel Morrison of Tampa, Fla.; eight grandchildren, Edward Tabor III, Shalai Tabor, Cameron Millsaps, Jasha Dunlap, Mercedes Teague, Cecil Summers, Jr., Justin Summers and Lindsay Summers; seven great-grandchildren and a host of nieces, nephews, cousins and other relatives and friends. In addition to the above, she is survived by dear and devoted friends, Opal Stockton, Joe and Pat Neal, and Mary Helen Morrison.
God's Tender Care
When trouble comes, as it does to us all
God is so great and we are so small
But there is nothing that we need know
If we have faith that wherever we go
God will be waiting to help us bear
Our pain and sorrow, our suffering and care
For no pain or suffering is ever to much
To yield itself to God's merciful touch!
Celebration of Life Services will be conducted Friday, September 11, 2020, at 12 noon at Highland Acres Church of Christ. Al Simmons will officiate and burial will follow in the Belmont Cemetery.
Visit the Book of Memories for Mrs. Tabor at www.rutledgeandbigham.com. Rutledge and Bigham Funeral Home is serving the Tabor Family.