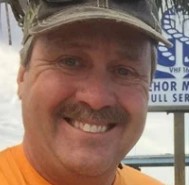 Steven Mark Grimsland, 60, of Mooresville, N.C., died in a tragic accident on Tuesday, December 22, 2020, while working near Asheville, N.C.
He is survived by his loving wife Stacie (Bartlett) and his beloved son, Andrew. Also surviving are sisters, Arleen Irons and Linda (Gerry) Lanza; brother, David (Irina) Grimsland, and many cherished nieces, nephews, and cousins. He will also be greatly missed by his in-law family, Richard and Joan Bartlett, Marshall and Cathie Ayres and children, and David Bartlett. He was predeceased by his parents, Anders and Maria (Kobbeltvedt).
Steve was a Project Manager at Veolia Environmental Services, working out of the Mooresville office. He was a loyal employee for 34 years.
Steve had a larger-than-life personality with his smile preceding him into every room. He grew up in Sparta, N.J., and lived in Syracuse, N.Y., for several years. Moving to North Carolina in 2000, Steve made life-long friends everywhere he went. Always generous, Steve enjoyed being a mentor and friend to his younger family members. He was the life of every party and enjoyed getting to know new people. He was very proud of his Norwegian heritage and made several trips there to visit family. He enjoyed traveling, especially if he could get there on his Harley. Steve was an avid sports fan, rooting for the N.Y. Mets, Giants, and Rangers, no matter how awful they were doing! His love, light, and laughter will be missed by all who knew him.
Visitation will be at 1 p.m. on Wednesday, December 30, 2020, at Cavin-Cook Funeral Home in Mooresville. Service to follow at 2 p.m. For those who are unable to attend the service, you may go to the following link for the live stream:
https://www.youtube.com/channel/UC864hAs96dTRLVVL1la0Qlw/videos?view=2&flow=list.
In lieu of flowers, please consider a donation to the charity of your choice.
Cavin-Cook Funeral Home, Mooresville, is serving the family of Mr. Grimsland. Condolences may be made to the family atwww.cavin-cook.com