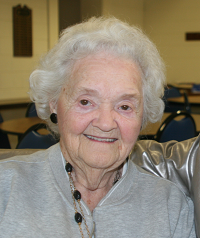 Sue Woodside Ruffin, 98, formerly of Statesville, N.C., passed away Saturday, January 11, 2020, at Transitions of Wake County, N.C.
Sue was born November 25, 1921, in Iredell County and was the daughter of the late Otis Lathan Woodside and Mamie Lee Vickery Woodside. She was a graduate of Scotts High School and Lees McRae College with a degree in Medical Records. She served in the U.S. Coast Guard (SPAR) from 1941-1945 during World War II. Later she worked for UNC Memorial Hospital and HUD and was a State Auditor of Nursing Homes in North Carolina.
She was a lifelong member of Concord Presbyterian Church, where she was a Sunday school teacher. She was also a member of Cary Presbyterian Church, where she became the first female Ordained Elder. Later, she received the Presbyterian Women's Lifetime Achievement while at Concord Presbyterian Church.
In addition to her church activities, she enjoyed going to the Lees McRae Reunion (Frolic) every summer until well into her 80s. She led an active life of service before self, within each community she called home.
She is survived by one son, Timothy Allen Ruffin (Ashley) of Fuquay-Varina, N.C.; one grandson, Davis Allen Ruffin of Fuquay-Varina, N.C.; three nieces, Sally Hedrick Warren, Leigh Thompson Glenn, and Barbara Hedrick Williams (John); and one nephew, William Edward Thompson Jr. (Sara), along with numerous great nieces and nephews.
She was preceded in death by three sisters, Mary Otis Woodside Morrison, Helen Woodside Hedrick and Carolyn Woodside Thompson.
Funeral services will be held at 11 a.m. on Saturday, January 18, 2020, at Concord Presbyterian Church with Rev. Liz Troyer officiating. Burial will follow in the church cemetery with full military honors. The family will visit with friends on Saturday from 10 to 11 a.m. at the church. Active pallbearers will be Michael Cook, David Glenn, Joe Raymer, John Williams, George Saffos and Bill Thompson.
In lieu of flowers, memorials may be made to Lees McRae College, Concord Presbyterian Church and Transitions Hospice Care of Wake County. Online condolences may be made to the family at www.troutmanfuneralhome.com
Troutman Funeral Home is serving the family of Sue Woodside Ruffin.