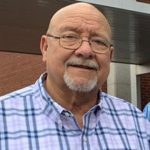 Ted "Butch" Wingo Jr., 70, a resident of Mooresville, N.C., passed away Wednesday, February 5, 2020, at Gordon Hospice House following a long period of failing health.
Butch was born August 6, 1949 in Asheville, N.C., and was the son of Ted E. Wingo Sr. and Louise Ellerbe Wingo. He was a graduate of East Tennessee State, where he majored in Social Work with a focus on Criminal Justice.
While a student, Butch worked for Taylor Furniture and Hartman Funeral Home. After graduation and over the years, he worked as a probation officer for Johnson City Juvenile Court, Mashburn Realty, Prevette Construction and America's Home Place for 16 years. At America's Home Place, he built relationships with many customers and especially those he worked with such as Jill, Chad and JD.
Later in life Butch developed a passion for serving others. As a long-time greeter at the Cove Church, he developed many friends and acquaintances. In addition, he served on the Care Team that visited people who were sick or in the hospital. Butch had a way of building close bonds with individuals in their final days and he built lasting relationships with their families. Butch also loved children and could be seen reading to them at Mt. Ulla Elementary or filling in for Santa Claus at events.
Butch loved his wife, Sandy. Over the years they built a special relationship and depended on each other. They never met a stranger and always opened their house to feed someone or just catch up. Butch loved his daughter, Jilda. He strived to make up for lost years and grow their relationship. They shared a special bond, a desire to watch things only they saw as interesting and he had a unique way of pulling pranks on Sandy. Butch loved his stepchildren and always strived to show them how he cared. Butch loved his grandchildren and loved all the children he would meet. He was affectionately known to all of them as "Pop Pop." Butch had a special bond with his grandchildren and he loved spending time with them, hearing about day and sharing things he heard or learned.
He was predeceased by his parents and leaves behind his wife, Sandra Houston "Sandy" Wingo, daughter Jilda Ramsay (Rob) of Cleveland, N.C., stepdaughter Anna Holloway (Ken) of North Myrtle Beach, S.C., and grandchildren Tyler Hollloway, Kelsey Holloway, Matthew Ramsay and Mallory Ramsay, "His Petunia."
A Celebration of Life will be held at 2 p.m. on Saturday, February 8, at Cavin-Cook Funeral Home Chapel with Pastor Jerel Law officiating. The family will receive friends immediately following the service.
In lieu of flowers, please make donations to Gordon Hospice House and/or The Ability Experience.
Cavin-Cook Funeral Home & Crematory, Mooresville, is serving the Wingo family. Condolences may be made to the family at www.cavin-cook.com.