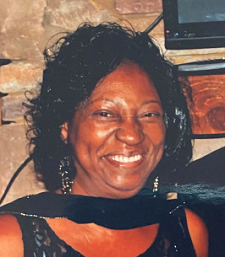 Mrs. Teresa Ann White Westmoreland, beloved daughter of Otis and Mary Carr White, was born in Iredell County on March 24, 1958. She departed this life on Wednesday, July 1, 2020, at Novant Health in Huntersville, N.C.
She was a graduate of South Iredell High School, Class of 1976, and was a member of Antioch Baptist Church in Cleveland. She was the president over the Pastor's Aide, director over the Young Adult Choir, a member of Antioch Spiritual Singers, the Missionary Department, Praise and Worship Team and the Kitchen Committee. She was a loving mother, not only to her own children but to many others, including the youth and young adults of Antioch Baptist Church.
In 1977, she married Henry Thomas Westmoreland, who preceded her in death. Her paternal grandparents, Fred and Maggie White, and her maternal grandparents, Espie Etta Ree and Sadie Carr, also preceded her in death.
She leaves to cherish the memory of her life in addition to her parents, Otis and Mary Carr White, her children, Tonika (Torrey) Miller, Antwanette (Tyler) Kilgo and Okema (Tommy) Gilmore; her grandchildren, Jazmine Scott, Elise Kilgo, Victoria Bost, Denzel Gilmore, Jaylah Gilmore, Torrey Miller Jr., and Unique Williams; her great grandchildren, McKinsey Bost, Drayden Gilmore and Skylar Williams; her brothers, Frankie S. Washington of Philadelphia and Otis (Arlene) White Jr. of Mooresville; her sisters, Penny (Joe, II) Mauney and Novella (Edward) Lowe, both of Mooresville; her god-daugher, Phyllis (Nelson) Allen; her honorary grandchildren, Jayceon McKee, A. J. Culbertson Jr., Averi Cuthbertson and Chase Farnum; her special friends, Elaine Rankin, Freda Mull, Darlene Davis, Debra Houston and Mary Standback; her aunts, Elsie Carr, Mary (Isaiah) Venning, Katie White, Mary Haynes and Margaret (Stanley) Flowers; and a host of nieces, nephews, cousins, and friends, including Archelaus Cuthbertson, Saquana Farnum, Denta White, Tameka Hosch, Shameka White, Shalisa Lowe, Cheyenne Furman, and Alex Lowe, the Antioch Baptist Church Family, other relatives, neighbors, and friends.
Celebration of Life Services will be conducted on Wednesday, July 8, 2020, at 2 p.m. at Antioch Baptist Church in Cleveland, N.C.
There will be no public visitation. Unfortunately, with COVID-19, Rutledge and Bigham Funeral Home, along with other funeral homes across the country, has been issued a mandate to limit the number of family and/or friends at funeral services. You can only enter the funeral with a funeral pass, which will be given to the family.
General viewing will be from 1 until 7 p.m. on Tuesday, July 7, and will resume on Wednesday, July 8, from 9 a.m. until 12:30 p.m., when she will be taken to Antioch Baptist Church to lie in state.
Visit the Book of Memories for Ann at www.rutledgeandbigham.com. Rutledge and Bigham Funeral Home is serving the Family.