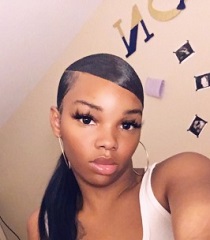 Tey'Honnah Lynette Dye, beloved daughter of Tameka Smyre and Tyrone Lemans Dye, was born in Iredell County on March 14, 2000. She departed this life on Saturday, March 28, 2020, unexpectedly.
She was a 2018 graduate of Statesville High School, where she cheered for four years, and was a loving mother. She loved her son, and loved doing things with family and friends. She loved to make people happy and was the "twerk" Princess. She was preceded in death by her grandmother, Janie S. Smyre; great grandfather and grandmother, Willie and Ulla Belle Swift; uncles, Jemond Carson, Early Vince Booe,III, Edward Swift, D. L. Swift, Eugene Swift and Gregory Swift; aunts, Berthine (Ford) Revels, Andera Jordan and Elizabeth Booe; cousins, Hurel Jr., Joe Jr. Joe Anthony and Vince Deshawn Parks.
She leaves to cherish the memory of her life, her son, Ty'Hon Jamire Ali Dye of the home; her special friend, Terry Lee Roseboro; her mother, Tamika (Marvin) Smyre-Caldwell of the home; her father, Tyrone Lemans (Brittany) Dye Sr. of Taylorsville; her godparents, Candice Pinkney, Edna Parks and Keenan (Frank) Mack; her brothers and sisters, Tylonda (Quintin Sr.) Smyre, Sailon (Kendra) Tucker of Statesville, Teykian (Tia) Dye of the home, Tyrone (Kourtney) Dye Jr. of the home, Tykeiva Swift, Lanyah Clark, Ja'Riyh Hall, Ty'Shyiah Dyre, Tynavijah Dye, and Ty'Quize Dye, all of Statesville, Tyrek Dye and Seven Dye, both of Charlotte; her grandparents, Shelia and Larry Seymore, Joseph and Penny Mauney, Jannie Smyre, and James Clark; her uncles and uncles, Manika Nichols, Roderick Mauney, Justson Mauney, Joseph Dye, Tre Mauney, Tony Swift, John (Tia) Smyre, Tina (Robert) Dalton, Brian (Ashley) Smyre, Robert (Victoria) Smyre, Corey Smyre, Roy (Serena) Smyre, Natasha (James) Smyre, Regina (Joe) Parsons, Calvin (Jada) Smyre, Thomas (Darnus( Swift, Anthony (Jasmine) Smyre, Sara Moss, Felicia Brown, Talicia Brown, Mary Moss, Latiasa Turner, Shannon Brown, Robin Freeman, Delisa Caldwell, Marcus Brown and Leroy Turner Jr.; a special aunt, Angie Workman; a special cousins, Donald Carson; and a host of nieces, nephews, cousins, other relatives, neighbors and dear friends.
Celebration of Life Services will be conducted Saturday, April 4, 2020, at Christian Outreach of the Piedmont at 1 p.m. Pastor Glenn Usry will officiate and burial will follow in the Sherperd Church of God Cemetery in Mooresville.
There will be no public visitation; however general public viewing until the service on Saturday from 9 a.m. until 12 noon prior to the service.
Unfortunately, with the COVID-19, Rutledge and Bigham Funeral Home, along with other funeral homes across the country, has been issued a mandate to limit the number of family and/or friends at funeral services. You can only enter the funeral with a pass, which will be given to the family.
Rutledge & Bigham is serving the family.