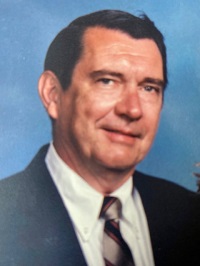 On March 28, 2020, Mr. Theodore Louis Edwards passed away at Wake Forest Baptist Medical Center. Ted was born on October 14, 1935, in Union City, Tenn., to Dalton Bryant Edwards and Deane Elizabeth Woodson Edwards. His parents as well as brother, Woodson Bryant Edwards, preceded him in death.
His father was in textile manufacturing and Ted grew up in Kentucky, Mississippi, South Carolina and Georgia. In his youth, Ted spent summers at Camp Sapelo on Sapelo Island, Ga., and Camp Bert Adams in Vinings, Ga., as a camp counselor. He earned the honor of Eagle Scout with Bronze Palm and the Order of the Arrow with Ordeal and Brotherhood Honors. In 1953, Mr. Edwards graduated from Villa Rica High School in Georgia. In 1957 Ted received a Bachelor of Science in Industrial Management from Georgia Institute of Technology, where he was a member of Phi Kappa Sigma Fraternity and Toastmasters Club. While at Georgia Tech, he also met the love of his life, Judith Camp Fallaw. They married on December 20,1956.
Following in the footsteps of his father, Mr. Edwards joined the family business, Roanoke Manufacturing, with plants in Wedowee, Roanoke and Anniston, Ala. While there, he also served in the Alabama Army National Guard. Ted went on to work as Plant Manager for Oxford Industries in Gaffney, S.C., and later was Vice President of Jantzen, Buck Knitting Division. He started T.L. Edwards Inc. in 1974 and was President and CEO when he retired from business in 1998. He considered his employees as an extended family. Throughout his career he was active in several industry associations, which included leadership positions.
Ted was known and respected for his honesty and integrity. He was a member of First Presbyterian Church, Statesville, where he served as an elder, deacon and chairman of a Pulpit Nominating Committee. He enjoyed his friendships, especially The Men's Bible Class. Ted loved the outdoors and all that that entails. He enjoyed hunting and fishing with his father and friends growing up and later with his sons. He also shared this knowledge as a Scoutmaster in Roanoke, Ala., Boy Scout District Chairman in Gaffney, S.C., as well as on the Boy Scout Eagle Review Board, and Troop Committee Chairman in Statesville. Ted believed in helping the community and often did so in unseen ways. Mr. Edwards was a member of Kiwanis and was Program Chairman Advisor for the South Iredell High School Keywanettes in the late 1970s. He was also involved with the United Way, serving a term as Fundraising Chairman.
Ted was a compassionate and loving son, husband, father, grandfather and friend. An engaging storyteller with a distinctive Southern voice, he had a dry sense of humor that was infectious. He loved history, genealogy, nature, the ocean, family, and driving cross country in his Audi. His family is grateful for the life lessons he taught them and his calm, reassuring presence. Ted, Daddy, Grandaddy was a great teacher of lessons in life to his entire family. He will be greatly missed.
He is survived by his beloved wife of 63 years, as well as daughters, Mary Edwards Hunnicutt and husband Holden of Black Mountain, N.C., and Judith Edwards Smith and husband Bryan of Naples, Fla. Also surviving are sons, James Woodson Edwards and wife Faith of Los Angeles, Calif., and Thomas Bryant Edwards of Sevierville, Tenn. He has eight grandchildren, Matthew Woodson Boggs, Marshall Livingston Smith, James Joseph Edwards, Bryson Louis Smith, John (Jack) Woodson Edwards, Isabel Grace Edwards, Grace Woodson Hunnicutt, and Elizabeth Deupree Hunnicutt, all of whom also cherish his memory.
A private burial was held on March 30,2020. A Celebration of Life will be held at a future date. In lieu of flowers, the family requests that any donation in his memory be made to First Presbyterian Church,125 N. Meeting Street, Statesville, NC 28677. Those wishing to send online condolences may do so at www.TroutmanFuneralHome.com
Troutman Funeral Home is serving the family.