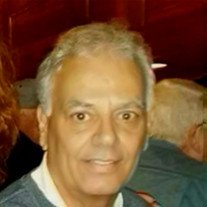 Thomas Dotoli, 76, of Mooresville, N.C., passed away on November 13, 2020. He was born on May 19, 1944, in Newark, N.J. His parents were the late Ludine and Mary McMullin Dotoli.
Mr. Dotoli loved working on any kind of electronical equipment. He was a smart man who was also very giving and kind. He put a smile on everyone's face when he walked into a room and would do anything for anyone. He was the favorite uncle to all his nieces and nephews.
He is survived by his beloved wife of 54 years, Kathleen Zajac Dotoli; son, Ludine Dotoli (Cheryl); daughter, Janine Dotoli; grandchildren, Alyssa Bottcher and Kody Hager; and brother, James Dotoli (Nancy).
A memorial service will be held on Friday, December 4, 2020, at 11 a.m. in the Heritage House at Cavin-Cook Funeral Home & Crematory with the Father Mark Lawlor officiating.
As an alternative to flowers, the family asks memorials to be made to the American Cancer Society, P.O. Box 22478, Oklahoma City, OK 73123
Cavin-Cook Funeral Home & Crematory, Mooreville, is serving the Dotoli family. Condolences may be made to the family at www.cavin-cook.com.