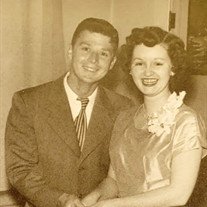 Thomas Morrison Davidson, age 92, passed away in his home on Friday, February 7, 2020. He was born March 23, 1927, in Statesville, N.C. He married Rosetta Garris, who is now deceased, on April 4, 1953, and they had three children, with two surviving, Tommy and Kay. He leaves behind a legacy of five grandsons, ten great-grandchildren, and one great-great grandchild.
Thomas is a WWII veteran, having served honorably in the United States Navy within the Pacific Theater, specifically Japan. After completing his enlistment, Thomas came home, worked for several transportation and logistics companies, and raised his family.
He was predeceased by his mother and father, Mr. & Mrs. Alston Pressley Davidson; his older brother William A. Davidson (also a WWII USN Veteran); and daughter, Mary Elizabeth Davidson.
In lieu of flowers, donations can be made in memory of Thomas M. Davidson to First ARP Church of Statesville (https://www.firstarpstatesville.com) and Hospice of Iredell County (http://www.hoic.org).
The funeral for Thomas will be held on Saturday, February 15, at 1 p.m. at Oakwood Cemetery in Statesville, as a gravesite service with military honors.
Cavin-Cook Funeral Home and Crematory in Mooresville is serving the family of Mr. Davidson. Condolences may be made to the family at www.cavin-cook.com.