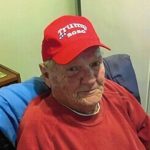 Tommie Allen Edison, 75, of Statesville, N.C., passed away on August 23, 2020, at his home.
Tommie was raised in Union Grove, N.C., by his foster parents, the late Albert and Pearl Cooper. He attended Union Grove schools and on November 20, 1965, he married Carolyn Hudspeth Edison, who survives of the home.
He was a self-employed poultry farmer for over 30 years and was a member of Zion Baptist Church. He loved farming and was a devoted supporter of the Republican Party. After retirement, he enjoyed walking and eating breakfast with his friends. He remained a devoted husband, father and grandfather to the end of his life.
In addition to his wife of 54 years, he is survived by two daughters, Susan Pope (Keith) and Tammy Suther (Michael); and three granddaughters, Taylor Reid, Allison Pope and Morgan Suther. He is also survived by two sisters, Gloria Lawrence (W.F.) and Martha Maier; and one brother, Arland Eidson of Virginia Beach, Va.
He was preceded in death by a sister, Elizabeth Sherrill, and a brother, Jerry Eidson.
Funeral services will be held at 2 p.m. on Wednesday, August 26, 2020, at Troutman Funeral Home with Rev. Beau Mills officiating. The family will receive friends from 1 to 2 p.m. before the service. Burial will follow in the Iredell Memorial Gardens.
Memorials may be made to St. Jude's Children's Hospital and online condolences may be made to the family at www.troutmanfuneralhome.com.
Troutman Funeral Home is serving the family.