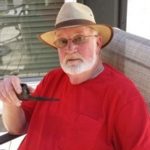 Troy Jerome Whitley, 71, of Mooresville, N.C., passed away on Tuesday, January 21, 2020, at his residence.
He was born on March 3, 1948, in Union County, N.C. Mr. Whitley was a member of the Mooresville Chamber of Commerce for many years. He was very compassionate, had a good heart, and loved his family dearly. Mr. Whitley enjoyed hunting, reading old western novels, listening to "old" country music, and helping others. He always wore a hat and smoked a pipe.
He is survived by his wife, Sharon Douthit Whitley; daughter, Mindy Nall and husband Vance and their children, Dylan and Scarlet; son, Rance Hume and wife Taylor and their son, Kamden; and grandson, Zachary.
The family will receive friends on Friday, January 24, from 5 to 7 p.m. at Cavin-Cook Funeral Home. Funeral services will be held at 10 a.m. on Saturday, January 25, at Cavin-Cook Funeral Home Chapel. Burial will follow the service at Iredell Memorial Park in Statesville.
Cavin-Cook Funeral Home & Crematory, Mooresville, is serving the Whitley family. Condolences may be made to the family at www.cavin-cook.com.