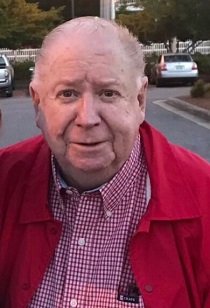 Vernon Reid "Red" Overcash, 83, of Troutman, N.C., passed away at Lake Norman Regional Medical Center on October 11, 2020, following a battle with kidney disease.
He was born on June 7, 1937, in Mooresville, N.C., to the late Pinkney Glenn and Floe Brawley Overcash. He was raised in the Methodist faith at Wesley Chapel.
In addition to his parents, he was preceded in death by sister Margaret Ann Goodman and brothers Pinkney Allen Overcash, Raymond Glenn Overcash, and Herman Alexander Overcash; brothers-in law William "Bill" Karriker and Stephen "Bosco" Alexander.
He is survived by his wife of 54½ years, Jackie Torrence Overcash; daughter Traci Overcash Swaim (Dean); granddaughter Celeaha Swaim (boyfriend Antonio Lopez) and sisters Mary Grace Karriker and Linda Gail Alexander; sisters-in law Joyce Brown Overcash and Mary Anne Hagaman Overcash; and brother-in-law Stanley Goodman; along with ten nieces and nephews and a multitude of great nieces and nephews and cousins.
He met the love of his life Jackie on a blind date and proposed exactly one week later. He swept her off her feet and showered her with gifts every time he came to court her. They were married a mere 3½ months later. She says no one had ever treated her like a queen on a throne as he did. He continued to lavish her with gifts for many, many years to come.
In 1970, they welcomed their only child Traci. She learned the value of hard work and ethics from a very young age. Upon college graduation, he presented her with his latest venture for Troutman, a dress shop, Only Hers. She had success like her Dad and expanded to three locations; however, she realized the retail world was not her love as it was her Dad's, and she closed the businesses and subsequently went into healthcare finance. In 1994, she married her love Dean Swaim, who Red always considered as a son. He and Dean spent many hours talking about their mutual love of guns and Red "teaching" him how to do repairs on almost everything. He always told him that one day he was going to have to take over for him.
The true apple of his eye was his only granddaughter, Celeaha Swaim. He would have given her the world if he could have. As proof, he let her choose, at the "ripe" age of seven, where a beach condo would be purchased. He wanted to make sure she was well-educated and sent her all the way through Statesville Montessori School. When she turned 15, he said to buy whatever car she wanted — that was "Sadie," a blue Toyota Tacoma truck.
He attended Shepherds School and graduated from Troutman High in 1956. He went to work for his Uncle Reid Brawley at Brawley's TV Repair of Statesville as a TV technician/repairman before opening his own Overcash TV Repair in the late 1960s. He was also a deputy for the Iredell County Sheriff's Department under Sheriff Charlie Rumple, who gifted him the honor of a lifetime membership in the North Carolina Sheriff's Association. As he never met a stranger, he loved to go out "politic-ing." He served as the campaign manager to Sheriff Tom Thompson and Sheriff Clyde Lloyd.
He had a lifelong commitment to bring growth to Troutman. He built and leased out the group of store fronts at the Fairground Shopping Center next to the Food Basket. He and his wife Jackie bought the land and built the Kat's Patch in 1970. They named it after their cat "Tosha," who was the model cat for the original sign. The restaurant was such a success that it was completely in the black within six months, and the current owners asked to lease and subsequently purchased the business.
Next in his sights was the building on the corner of the shopping center. Everyone kept asking, "Wonder what's being built on that corner?" He decided that was the perfect name for it, The Wonder Corner. It was enlarged three times until there was no more room to grow, so they moved it up to the corner of Highway 21 and Barium Circle. It was North Carolina's largest gift shop until the recession hit and gas became more of a necessity than giftware. He then sold the building to Joe Poteat, who was just starting his endeavor with Dr. Tom Clark with mass production of the Pecan-Shelled Gnomes.
Not one to be idle, Red's next adventure was the purchase of the house from Dr. Talley's estate in Troutman. He added onto the house and remodeled it into the restaurant known as The Talley House. In normal tradition, the business boomed. People lined the sidewalk waiting to get inside to eat. Red fried so much chicken himself that he couldn't eat another piece of chicken for years. Just being one to love the sheer challenge of the start-up, when Julia Shumake (current family owners) approached him to sell it to her, the Talley House then became Julia's Talley House.
He then went into selling of unfinished furniture and buying gold and silver in one side of the building at the "square" in Troutman. The other side was his wife Jackie's for a small gift shop. They then purchased the old Neill's Grocery building and turned it into T-Town Restaurant, which later became the original Randy's BBQ.
The longest business run by Red was actually his wife, Jackie's, T-Town Video. It was started in 1985 in the basement building under Randy's BBQ (now China Garden). It grew and was moved to the old Troutman Hardware (now T-Town Pawn) and then to the old Dart Store building, which is now known as Rockin' Robins. He would joke and say that they only way it was still theirs was that Jackie wouldn't let him sell it. In the heyday of the video business, they owned 10 locations across the county.
While Jackie was occupied with the video business, he was bored and decided to open yet another restaurant. He purchased the building at the V-point and opened Lite Bite, serving frozen yogurt and light sandwiches. It later became Red Light Café, when he sold the business to Joe and Melba Poole.
Loving to visit pawn shops all around, he decided that was what Troutman needed next, a pawn shop, and thus was built T-Town Jewelry and Pawn. He met and recruited Kevin Palmer, manager of Doc Holiday's in Charlotte, and brought him to Troutman to be the manager of T-Town Pawn. After Red's challenge of getting it going, he then sold the business to Kevin, who still has it today.
Along with all of the endeavors that he himself started, he also purchased a variety of buildings in the heart of Troutman and was responsible for recruiting new businesses to them. He was always invested in bringing growth to Troutman and "putting it on the map."
Many close friendships have been made throughout the years and business ventures. One that particularly stands out was the late Mrs. Elsie Moore, who helped start and managed many of his escapades, including the Kat's Patch, The Wonder Corner, The Talley House and T-Town Restaurant. Another that stands out was the late "Mama Jean" Hagler, who was known for her awesome country cookin' and homemade biscuits. Then, there was Randy and Robin Pittman, who he was fortunate enough to be a part of their success not just once, but twice. Red considered many of his proteges to be like sons (regardless of their age); among these are Kevin Palmer, Bill Franklin, Randy Pittman, Kevin Montgomery.
In later life, Red and Jackie enjoyed going to car shows and getting together with the car club, including Robert Brawley, Tommy Lytton, Bill Stamey, Danny Lippard and Ed Marlowe, along with their respective wives. He was always on the hunt for another car like his old 1954 Corvette, which was the first one in Iredell County.
He always enjoyed going out to eat and talking to everyone. He particularly enjoyed his meals spent with close friends Bill Redmond, Charlie Hartley, Bill Stamey and Ron "Duck" Wyatt. Many friends have commented that they appreciated the fact that you always knew just where you stood with him whether he agreed with you or not as he was never one to hide his feelings on anything.
Funeral service will be held at 2 p.m. on Thursday, October 15, 2020, at Troutman Funeral Home with Pastor Wesley Morris of Ostwalt Baptist Church officiating. Burial will follow in the Iredell Memorial Gardens Cemetery. The family will visit with friends from 12:30 to 2 p.m. on Thursday. Mr. Overcash will lie in state at Troutman Funeral Home. Active pallbearers are Dean Swaim, Antonio Lopez, Chad Morrow, William McDaniel, Kevin Palmer and Fred Settlemeyer.
Special thanks and appreciation to Lake Norman Regional Medical Center, Dr. Sinasi Salman; Theresa Faires, FNP; Dr. Amish Patel (doctor and friend). In lieu of flowers, donations may be made to St. Jude's Children's Hospital or the National Kidney Foundation www.kidney.org.
Online condolences may be made to the family at www.troutmanfuneralhome.com.
Troutman Funeral Home is serving the family.