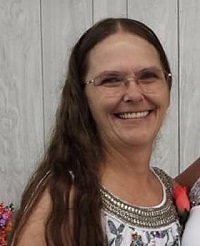 Vivian Elizabeth Bryant Morrison, 53, of Stony Point, N.C., formerly of Welch, W.Va., went to be with her Lord and Savior on Tuesday, June 2, 2020, at her home with her family by her side. She was born in Shoshone County, Idaho, on Friday, March 10, 1967, to the late Ben William Bryant and Hazel Alma Mullins Bryant.
She will be remembered for being not only a great mother but a mother to many. She was of the Baptist faith.
In addition to her parents, Vivian was preceded in death by two sisters, Patricia Bryant and Lisa Mullins; and four nephews, Roland Stanley, David Stanley, Nicholas, Stanley, and Benjamin Sutherland.
Vivian is survived by her husband, Bobby Morrison Jr. of the home; seven children, David Nix Jr. of Texas, Dustin Nix and William Allen, both of Statesville, Rebecca Roberts of Hiddenite, and Bobby Morrison III (Mickey), Christopher Morrison, and Ashley Layne, of Statesville; five children in the home, Alexis "Lexi", Addalin, Kylee Hatcher, Jada and Brianna Morrison; her siblings, Kathy Winstead and Benita Sutherland, both of Statesville, and Michelle Hamilton (Rusty), Vella Bryant, Ples Bryant (Billie), James Bryant of Welch, W.Va., Vickie Cox, of Hemhill, W.Va., Karen North, Brenda Bryant, both of Pinehurst, Idaho, and Anna Bjarnason, of Redding, Calif.; 15 grandchildren and a number of others whose lives she touched.
Funeral Services will be conducted at 3 p.m. on Sunday, June 7, 2020, at Chapman Funeral Home. The family will receive friends from 2 to 3 p.m. at the funeral home chapel. The Rev. Brent Harrington will officiate. Burial will follow in the Stony Point Cemetery. Pallbearers will include: William Allen, Dustin Nix Jr. "DJ", Russell Hamilton, Bobby Morrison III, Clyde "Matt" Stanley, Aaron "Chase" Layne, Billy Draughan, and Dustin Nix Sr.
Chapman Funeral Home is serving the family.