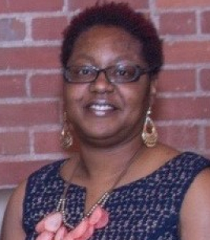 Ms. Wanda Michelle Rankin Sturdivant of Statesville, N.C., daughter Carolyn Rankin Roberts and the late Willie Paul Davis Sr., was born in Iredell County on January 9, 1977. She passed away at Forsyth Medical Center on Wednesday, September 16, 2020, following an extended illness. She was preceded in death by her step-father, Bradley L. Nesbit, and grandfather, Joe Dewitt Rankin.
She was a 1995 graduate of South Iredell High School in Statesville. She also attended East Carolina University. She became a member at Mt. Tabor Presbyterian Church, where she served as a Deacon, Choir Member, Praise Dancer and Children's Ministry Leader.
She leaves to cherish the memory of her life, her mother Carolyn (Jeffery) Roberts of Statesville; her grandmother, Ruth R. Rankin of Statesville; one daughter, Kayla Rankin of the home; one son, Jayden Sturdivant of the home; five siblings, Kenya (Joe) Nesbit Davis of Mooresville, Nerissa Lynn (Channing) Minor of Clarksville, Tenn., Willie P. Davis Jr. of Atlanta, Ga. James E. Davis Jr. (Lesia) of Atlanta and Latonya Roberts of Salisbury; and a host of nieces, nephews, cousins, other relatives and dear friends.
Celebration of Life Services will be conducted Monday, September 21, 2020, at 11 a.m. at Rutledge and Bigham Funeral Home in Statesville, N.C. Burial will follow in the Mt. Tabor Church Cemetery in Cleveland, N.C. Reverend James Thomas Porter will officiate.
There will be no public visitation. Unfortunately, during the COVID-19 pandemic, Rutledge and Bigham Funeral Home, along with other funeral homes across the country, has been issued a mandate to limit the number of family and/or friends at funeral services. You can only enter the funeral with a funeral pass, which will be given to the family.
To view the live stream of the service, go to Bernardeane's Facebook Page.
Visit the Book of Memories for Ms.Wanda Michelle Rankin Sturdivant at www.rutledgeandbigham.com.
Rutledge and Bigham Funeral Home is serving the Sturdivant Family.