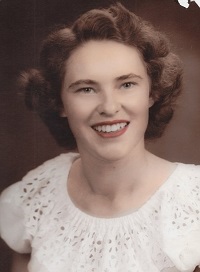 Mrs. Wilma Ruth Sloan Godfrey, 92, of Statesville, passed away, Wednesday, April 1, 2020 at her home.
Wilma was quiet by nature, but her character spoke volumes. She had a lovely singing voice which was only matched by her beautiful spirit. Additionally, she was endowed with an incredible work ethic which was valued by her miller father and her lumberman husband of 50 years. Wilma utilized this work ethic on her constant mission to help others while not requiring recognition for doing so. Wilma was a compassionate individual who loved her children unconditionally.
Mrs. Godfrey was born April 2, 1927, in Yadkin County and was the daughter of the late Chester Cornish Sloan and Maggie Isadora Mullis Sloan. She was a graduate of Yadkin County High School and was the first female school bus driver in the county. She earned a music degree from Guilford College, and at Guilford, she toured with the College Choir which left her with wonderful friendships and memories. With her husband's support and encouragement, she later attended Queens Business College. On December 7, 1951, she married Woodrow Wilson Godfrey, who passed away October 4, 2002.
She was a co-founder of Godfrey Lumber Company, a family business that she was still participating in this year. She was active in the community in numerous ways, including serving as an officer at Damascus Baptist Church, Statesville Bible Institute, Statesville Altrusa Club, and others.
Mrs. Godfrey is survived by five children, Barbara G. McCloud (Butch) of Maryville, Tenn., Chester Lee Godfrey of Statesville, John Wilson Godfrey (Pamela) of Troutman, and William Godfrey of Statesville, Barry Godfrey (Sandy) of Cleveland; eight grandchildren, Adam Wilson Godfrey (Lisa), Matthew Addison Godfrey (Kelly), Daniel Ethan Godfrey, Alex Sloan McCloud (Ava), Ethan Bartley McCloud, Laci Wynne Godfrey, Grace Virginia Godfrey, and Faith Carly Lawing; and one brother, Fred Sloan.
In addition to her husband and parents, she was preceded in death by eight brothers and sisters.
The family wants to recognize Mrs. Godfrey's special friends: Marcell Souther, Nancy Johnson, and Helen Deal.
A family graveside service will be held at 2 p.m. on Saturday, April 4, 2020, at Damascus Baptist Church with Rev. Dale Wallace officiating.
Memorials may be made to Hospice and Palliative Care of Iredell County or Damascus Baptist Church Missionary Fund. Online condolences may be made to the family at www.troutmanfuneralhome.com
Troutman Funeral Home is serving the Godfrey family.